EDITOR COLLAPSES, DIES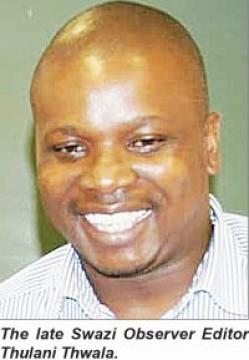 NYAKENI - Seasoned journalist and Swazi Observer Editor Thulani Thwala has died after collapsing in a casino toilet.
Thwala (45) of Nyakeni under Kukhanyeni Constituency in the Manzini Region, died in the wee hours of yesterday.

The sad news was confirmed by his uncle Mankayane and brother Shaka Thwala.
According to his uncle, Thulani, who had worked in the media industry for about 22 years and had served as a journalist and editor at the Times of Swaziland Group of Newspapers, knocked off from work on Wednesday evening and went to the casino.

Award

He said while the award-winning journalist was taking care of his business which had brought him to the casino, he went to use the bathroom.
"No one knows what exactly happened in the bathroom but it is suspected that he collapsed as he was found lying unconscious on the floor by another patron," the uncle said.

According to information they got from witnesses, Thulani's uncle said those present at the casino called the Emergency Medical Services (EMS), who are widely known as paramedics, and they responded promptly to the call. He said upon arrival, the EMS personnel rushed him to the Mbabane Government Hospital, while giving him first aid along the way.

However, when they arrived at the hospital later on the night, he said they found that there were no doctors.
Attempts were made to call doctors and one of them responded promptly.

He said at that time, Thulani was still unconscious and the doctor ordered that he should be rushed to the Intensive Care Unit (ICU).
"However, the ICU was full and unfortunately, he died while being taken to another ward to receive further treatment," the uncle said.

Meanwhile, his brother, Shaka said even though he had been suffering from an illness, he was well in recent months and they did not expect this.
"It is difficult to come to terms with the unexpected death of our brother," the uncle said. In fact, he said the story of how Thulani died was unbelievable and it was like they would hear a different account maybe from the people he was with at the casino, whom they do not know yet.

Family

However, on behalf of the family, Shaka sent heartfelt condolences to Thulani's friends, colleagues and all those who were touched by the sad news of his demise.

According to his family, the seasoned award-winning journalist will be laid to rest next week Saturday morning at his parental home at Salukazi, Nyakeni after a vigil on Friday. Meanwhile, the venue and time for his memorial service, which will precede the vigil next Friday, will be announced in due course.

Thwala's death follows that of another seasoned journalist, Lucky Ndzimandze, who was the Managing Editor of Ingwazi Newspaper when he met his death towards the last quarter of 2015.
Ndzimandze died after a short illness and suspicions were rife that he might have been poisoned.
Will the missing corpse of Gladness Kimaro Edje be found?