DOCTORS' REPORTS: ZAVALE WAS SUFFOCATED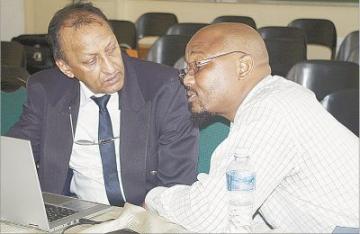 MATSAPHA – Luciano Zavale died from a severe lack of oxygen to his lungs; his nose and mouth were blocked until he died.

This is according to the different post-mortem reports presented to the members of the inquest team led by coroner, Principal Magistrate Nondumiso Simelane, where both pathologists agreed that interference with Zavale's respiration may have been the cause of death.

Dr Steve Naidoo, when leading evidence during the hearing, revealed that Zavale had been gasping and choking when he eventually met his death.
This is contained in two different post-mortem reports compiled by the two pathologists, who examined Zavale's body on June 18, 2015.
Pathologist Dr Komma Reddy was provided by the State, while Dr Naidoo was sourced by the Zavale family, through attorney Leo Gama, who had expressed their wish to have a second opinion on the findings of their relative's post-mortem.

Dr Naidoo's findings revealed that respiratory distress was the last thing that Zavale suffered before he died.
He said when he examined the internal organs of the deceased he found his lungs to be rather abnormal. Naidoo also confirmed that he had read Reddy's report and had found it in total agreement to what he had also written in his report.

This is contrary to reports presented earlier during the inquest when head of the Criminal Investigations Department (CID) Desk Officer Aaron Methula informed the coroner that his officers informed him that while they were interrogating Zavale concerning a stolen tablet, he complained of feeling hot, stood up and sat down before collapsing.

He was later certified dead by a medical doctor at the Raleigh Fitkin Memorial (RFM) Hospital. "The lungs of the deceased were heavy and dark due to the fact that they were filled with blood and frothy fluids. The lungs had multiple secretions of spots of bleeding," Dr Naidoo said.
He explained that this occurred in instances when the respiratory passage of a person was blocked yet the person was gasping and choking attempting to draw oxygen.