Ex-MP Myeza JAILED after winning primary elections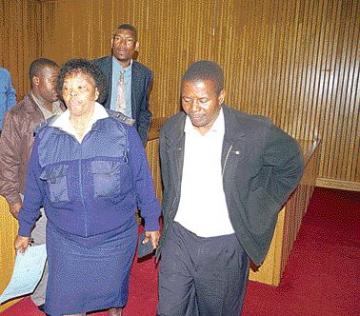 MBABANE – Former Khubuta Member of Parliament, Charles Myeza, was yesterday sent to jail two days after winning the Primary Elections.

The former legislature was sentenced to five years imprisonment at the High Court. His sentence comes exactly two days after he was announced the winner of the Primary Elections in his constituency. He was nominated for the position of Member of Parliament.

Myeza was found guilty of fraud, forgery and uttering on Friday and was sentenced yesterday. He defrauded the Royal Swaziland Police over E600 000. In passing sentence, Judge Nkululeko Hlophe said he considered that Myeza was a relatively young man who has a future and that he was remorseful. "The court will issue a sentence that will not break him but one which will give him a chance," he said.

He said the court would, however, not lose sight of the seriousness of the charges he was convicted of. Judge Hlophe said offences such as the ones Myeza was convicted of were prevalent these days.
He said the accused was a first offender, has children and was cooperative but it was not in dispute that he breached the trust which his employer had bestowed upon him.

In coming to an appropriate sentence, the judge stated that he visited a number of concluded cases which include that of Qhawe Mamba, Thembela Simelane, Polycarp Dlamini and that of Sipho Marko Gama. In mitigation Myeza's lawyer, Noncedo Ndlangamandla from Mabila Attorneys, asked the court to consider her client's personal circumstances. She asked the judge not to consider giving him a custodial sentence.
The Director of Public Prosecutions Nkosinathi Maseko, however, asked the court to issue a sentence that would sent a clear message to other would-be offenders.
He said Myeza breached the trust that had been bestowed upon him by his employer. He had been charged with his wife Phumzile, Musa Ngwenya and his company PPC Electrical (PTY) LTD. Ngwenya and Phumzile were, however, acquitted and discharged in terms of Section 174 (4) of the Criminal Procedure and Evidence Act 1938, after their lawyer, Mduduzi Mabila, moved an application for acquittal on their behalf.
The thrust of the fraud charges was that on various dates between August 2004 and November 2005, all the accused persons, while acting in furtherance of a common purpose, misrepresented to the Royal Swaziland Police that they had performed certain electrical works as reflected in invoices prepared and presented to the Royal Swaziland Police and subsequently to the Swaziland Government Treasury Department for payment.

The contention was that there was either no such work performed or where any work was performed; it was only a portion of what was claimed. Notwithstanding these anomalies, the Government of Swaziland had, while acting on the advice of the Royal Swaziland Police, paid the amounts claimed to its detriment. From these incidents of fraud the Swaziland Government lost a total of E661 046.36, which was all paid to the fourth accused's company. He is said to have forged these signatures to misrepresent that the work claimed for in each invoice was performed.
With regard to the uttering charges, Myeza is said to have offered, uttered and put off the invoices.
Judge Hlophe in his judgment, stated that it was not in dispute that the said documents were actually processed for payment by Myeza who did so when he had interest in PCC Electricial (PTY) LTD which prepared the invoices and presented them for processing and payment. When finding him guilty on Friday, Judge Hlophe said the falsity in this contention by the defence was in how and when Silindza would have been able to ascertain and or confirm if the work was done including its monetary value. He said they themselves had not suggested that Silindza was part of any criminal enterprise done with them.

"It only complicates it further that the first accused (Myeza), who knew the procedure well on the delivery of invoices and the related duties of the Research and Planning Department, would go on and process such an invoice on the say so of Mr Silindza who clearly would not have verified the said invoice given it was the only one released to process payment," continued Judge Hlophe.

The judge said in the case of Myeza as he could discern from his evidence that he dealt with invoices of PPC Electrical he found deep in the Finance or Accounts Department like he dealt with other invoices presented to the department. He said this he sought to infer from the invoices forming part of the documents or invoices batched together with those of PPC Electrical (PTY) LTD.
: MPs assault allegations
Should an independent team be astablished to probe the MPs' assault in a cell allegations?