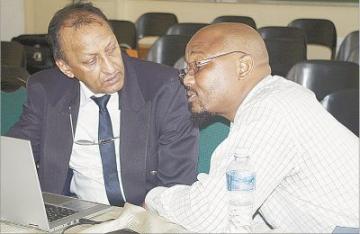 MATSAPHA – Luciano Zavale died from a severe lack of oxygen to his lungs; his nose and mouth were blocked until he died. This is according
MBABANE – Two of Minister Winnie Magagula's daughters have been hit with a E2.5 million defamation suit. Delisile and Nomcebo Magagula are being sued by Jane
...
MBABANE – The President of the Swaziland Principals Association (SWAPA), who is also Mbekelweni High School Head teacher, Mduduzi Bhembe has been suspended with immediate
...
MBABANE – With the Mbabane derby case dragging, galloping Mbabane Swallows striker Sandile Hlatjwako has received his top goalscorer prize for the past MTN league
...
Conditions for Mbabane, SZ at 4:59 am SAST
Current Conditions:
Unknown, 20 C
Forecast:
Tue - AM Showers. High: 30 Low: 16
Wed - Sunny. High: 37 Low: 18
Thu - Mostly Sunny. High: 38 Low: 18
Fri - Partly Cloudy. High: 34 Low: 19
Sat - Partly Cloudy. High: 36 Low: 18
Full Forecast at Yahoo! Weather
(provided by
The Weather Channel
)
Do you think dagga should be legalised to stop people fighting over it?