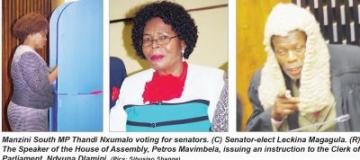 LOBAMBA – Wife to National Commissioner of Police Isaac Magagula is now a senator. Senator-elect Leckinah Magagula was the first of the five women to
MBABANE – On their first task, parliamentarians have defied the courts. Sabelo Masuku, Chairman of the Commission on Human Rights and Public Administration or Integrity,
...
MBABANE - A local company wants to be granted a licence to operate a factory which will manufacture drugs for medicinal purposes using dagga.Umjono (PTY)
...
The incident, which saw several people being injured and property being vandalised, took place on Monday afternoon.A group of about 30 community members was found
...
: Medicinal dagga drugs licence
Should the local company be granted a medicinal dagga drugs licence?