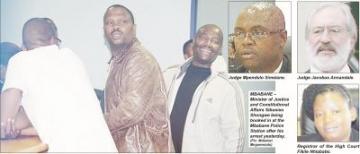 MBABANE – Justice and Constitutional Affairs Minister Sibusiso Shongwe has been arrested along with two judges; Mpendulo Simelane, Jacobus Annandale and High Court Registrar Fikile
MBABANE – Scathing allegations have been made against current and former ministers by shareholder of former Salgaocar, Shanmuga Rethenam, popularly known as Shan. He claims to
...
BUHLENI – Eradication of poverty, job creation, quality health and education are the categories that illustrate the accomplishment of First World status for the country. His
...
BUHLENI – A flawless evening, marking the birth of His Majesty King Mswati III 47 years ago, was marred by a sudden flash flood. The howling
...
Conditions for Mbabane, SZ at 7:58 am SAST
Current Conditions:
Mostly Cloudy, 20 C
Forecast:
Tue - Showers. High: 22 Low: 16
Wed - Partly Cloudy. High: 26 Low: 16
Thu - PM Thunderstorms. High: 25 Low: 17
Fri - Partly Cloudy. High: 25 Low: 15
Sat - Partly Cloudy. High: 27 Low: 14
Full Forecast at Yahoo! Weather
(provided by
The Weather Channel
)
Do you think a 12-year-old assisting in a delivery is a good or bad thing?