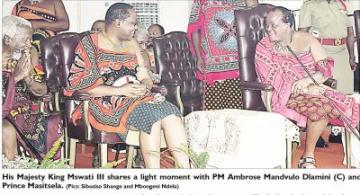 mbongeni@times.co.sz HLANE – Could this have been His Majesty the King's shortest speech ever? Yesterday, during the Buganu Ceremony at Hlane Royal Residence, His Majesty spoke for
MBABANE – Has government's finan- cial position improved to such levels that shopping for new wheels is now affordable? Well... so it seems. Minister of
...
MBABANE – Is this a historic financial draining project? The Sicunusa-Nhlangano road will now cost the taxpayer E899.66 million to complete. Government has not deferred
...

mbongeni@times.co.sz HLANE – Could this have been His Majesty the King's shortest speech ever? Yesterday, during the Buganu Ceremony at Hlane Royal Residence, His Majesty spoke for
...
Do you also think that government is not prepared to control its spending?