News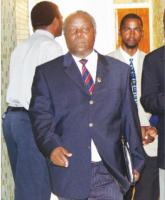 MBABANE – Swaziland has lost one of its greatest statesmen in former Prime Minister Obed Mfanyana Dlamini. Dlamini passed away in a South African hospital
MANZINI – Primary and high schools in Swaziland will now only teach Christianity in the Religious Education syllabus. This means that pupils will no longer
...
MANZINI – The banning of smoking for patients admitted to the National Psychiatric Hospital has resulted in them staging a violent protest action. The patients are
...
MBABANE – The rolling and grinding Bentall's Farm Machinery (emabhetali) which once cost a meagre E30, are back in demand for a whopping E100 000 reward. These
...
MBABANE – Life has become unbearable for a former Tex Ray Swaziland (PTY) Limited employee, who was severely affected by the leaking of poisonous gas
...