News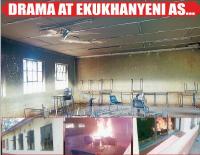 EKUKHANYENI – Pupils at Ekukhanyeni High School torched their school in protest over four suicides. When they arrived at the school yesterday morning, the expectation was
MBABANE – The new parliament has been described as a perfect mechanism to revive the country's ailing economy. This was the obtaining view of people from
...
MANZINI – As the country gears itself for a First World Status by 2022, SANU prides itself for producing graduates who are ready to innovate
...
MBABANE – Yesterday marked the end of freedom for former Mhlatane High School Head teacher Simeon Makhubu. This comes after Judge Mbutfo Mamba issued a warrant
...
MBABANE – If government is familiar with the conventional ways teachers use to raise their concerns, then it should brace itself. Going forward, teachers will now
...
MANZINI – If you are one of the over 500 000 registered Mobile Money general users or vendor you have a reason to be worried
...
MBABANE – What was meant to be a weekend of fun and strategic planning for the new year for Swazi TV journalists ended in a
...
MBABANE – They normally arrest people who forcefully break into people's houses but this time, they were the ones who allegedly committed the very same
...
MBABANE – The biblical Psalms 35 is now his sanctuary as the institution he leads witnesses its first and prolonged strike action. That is none other
...
MBABANE – An accident waiting to happen! Walking across the Eteni, Matsapha overhead bridge - one of the busiest and most used pedestrian crossings in
...

PIGG'S PEAK – When she was told that her baby had been delivered, all that Thandiwe Mndzebele wanted to see was at least it's face
...
BULUNGA – The biblical teaching 'love thy neighbour' seems to be foreign to two families at Bulunga, Hluthi after one was found naked holding a
...
MHLUMENI – Partially blind and living through agonising pain is what Because Matsenjwa will now be forced to endure as his source of livelihood was
...
MBABANE – If any of the Swaziland Television Authority staff was thinking of celebrating following the introduction of Vusigama Khumalo as the acting chief executive
...