News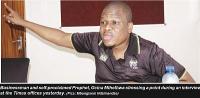 MBABANE – Police are having sleepless nights trying to find his killers, members of the public are speculating on his death, but there is a
MBABANE – The impact a person had in a place is usually seen after he or she has left. This proves true for murdered businessman Victor
...
Mbabane – It is a miracle! This is the only way to describe a chilling accident where two children aged two and one were run
...
MANZINI – Residents of Ekudzeni acted swiftly after the alarm was raised that certain people travelling in a black BMW sedan had kidnapped a man
...
MBABANE – Have you lost your mother, sister or grandmother? A woman who is estimated to be in her late 40s was found in Ermelo
...
MANZINI – If you are one of the over 500 000 registered Mobile Money general users or vendor you have a reason to be worried
...
MBABANE – What was meant to be a weekend of fun and strategic planning for the new year for Swazi TV journalists ended in a
...
MBABANE – They normally arrest people who forcefully break into people's houses but this time, they were the ones who allegedly committed the very same
...
MBABANE – The biblical Psalms 35 is now his sanctuary as the institution he leads witnesses its first and prolonged strike action. That is none other
...
MBABANE – An accident waiting to happen! Walking across the Eteni, Matsapha overhead bridge - one of the busiest and most used pedestrian crossings in
...

PIGG'S PEAK – When she was told that her baby had been delivered, all that Thandiwe Mndzebele wanted to see was at least it's face
...
BULUNGA – The biblical teaching 'love thy neighbour' seems to be foreign to two families at Bulunga, Hluthi after one was found naked holding a
...
MHLUMENI – Partially blind and living through agonising pain is what Because Matsenjwa will now be forced to endure as his source of livelihood was
...
MBABANE – If any of the Swaziland Television Authority staff was thinking of celebrating following the introduction of Vusigama Khumalo as the acting chief executive
...