News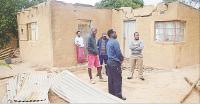 EZULWINI – A number of tenants and families living around Ezulwini and Lobamba came back to find that their residences had been reduced to rubble
MANZINI – Head teachers under SWAPA have threatened to shut down schools and hand over their keys to the Ministry of Education and Training to
...
MBABANE – A man has been sentenced to seven days without an option of a fine after he insulted Senior Magistrate Phathaphatha Mdluli. Brian Qwabe was
...
MBABANE – PUDEMO President Mario Masuku took time to address the COSATU 12th National Congress while in South Africa for a medical check-up. PUDEMO is an
...
MAHAMBA – There are fears that the new regulations aimed at motorists crossing the border into the country, from South Africa, will cause disruption to
...