News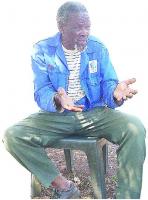 VUVULANE – An 82-year-old orator from Vuvulane, who spoke his mind on issues that relate to royalty during the Peoples' Parliament, is heartbroken after losing
MANZINI – The country's long serving Prime Minister (PM), Sibusiso Barnabas Dlamini, has hinted on retirement. This took place during the official opening of six classrooms
...
MBABANE - Unless permanent judges of the Supreme Court are appointed lawyers are adamant that they will boycott its sitting. This was disclosed by the President
...
MBABANE – First aid skills came to play when a female paramedic who is allegedly dating a married man was last night abducted, stripped and
...
MBABANE – The police have 'failed' to bust one of their own. This follows the acquittal of police officer Buster Vilakati and his co-accused Mthokozisi
...