Malanti chiefs turn down E70 000 offer for Fashina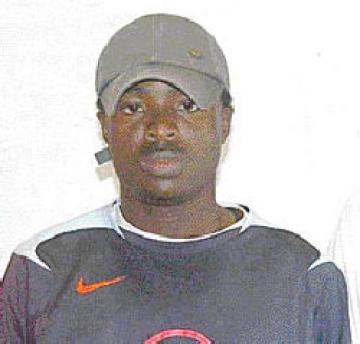 MBABANE – In an unprecedented move, Malanti Chiefs' Director Robert Gumede has turned down a E70 000 offer for double-registered speedy striker Olayeni Fashina.
Instead, Gumede has demanded a sum of E300 000 for the player he bought from Mbabane Swallows early this season, at a cost of E25 000. Fashina sneaked out of the Pigg's Peak side, camp for Mauritius to join top side Curepipe Starlight, who face South Africa's SuperSport United tomorrow in a CAF champions League first leg in Pretoria. The pint-sized Nigerian born speedy striker left the SwaziBank Cup defending champions on false pretence that he was headed for trials in France, only to surface at the Islanders side. He has already featured for the team, and according to repo-rts, the player has already made a mark for himself. The mystery in the matter is how he was registered with Starli-ght because his clearance is still with Malanti Chiefs.
This publication has learned that the player has since been withdrawn from the team to face SuperSport tomorrow after it transpired that he was a Malanti Chiefs player. In a last ditch attempt to settle the matter, his team approached Gumede over his rightful clearance, a matter that the team director confirmed to this publication yesterday.
cheating
"We are not taking this matter lightly. They signed our player without his clearance and that was cheating. We invested a lot in the player and there is no way we are going let him go just like that. I talked to the manager in Mauritius and they only offered to give us E70 000, which is below the E300 000 we want for the player," he said.
Gumede said if they were failing to get the player's clearance, then they should quickly bring him back to Malanti Chiefs where he belongs. "They first wanted us to give them the clearance free of charge as they wanted him to play against SuperSport and that was totally unacceptable. I'm still to contact the National Football Association of Swaziland (NFAS) over the matter and I hope it would be sorted soon," he said.
Gumede added that to lose Fashina was a major blow to them as they were also preparing for the CAF Conf-ederation where they face Athletico Malcumano today in Machava Stadium. He said they signed the player knowing his capabilities and said it was shocking that he is playing for another team while he still belonged to them.
Malanti Chiefs signed Fashina from Swallows for E25 000 and the Pigg's Peak side went on to spend E15 000 on the player's signing on fee.
Are you also of the view that prisoners should not be fed meat and bread?