Maidens tap into political turf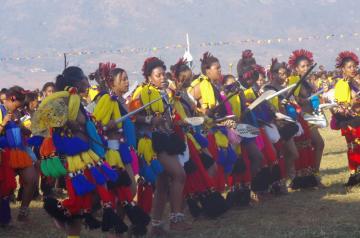 LUDZIDZINI - Maidens have pleaded with His Majesty King Mswati III to ensure the preservation of the Tinkhundla System of Monarchial Democracy.

This message was conveyed by the 120 000 maidens who participated during the 2013 Umhlanga Ceremony through a newly composed rendition that was sung on Sunday.
When Indvuna YeMbali Nondu-duzo Zubuko took the centre stage shortly after His Majesty King Mswati III finished kudlalisela, the maidens cheered their leader with the politically motivated song.

"Live lakho Ngwenmyama libusa nge-Tinkhundla, sitawuncoba sibusa ngeTinkhundla."

governed

Loosely translated "Your Majesty Swaziland is well governed through the Tinkhundla System of Democracy and will be victorious through it."
The maidens seemed to have loved the song since most of them danced along with the Indvuna while singing at the top of their voices.

Royal Swaziland Police Superintendent Wendy Hleta who was the Master of Ceremonies together with Former Indvuna YeMbali Nothando Ntshangase noted that the maidens were seemingly pleased with the message conveyed by the new composition.

"Your Majesty, through this song the maidens are expressing their happiness of being governed through the Tinkhundla System of Monarchial Democracy," said Hleta.
His Majesty recently revealed that he had a vision where a new name of the current system of governance was presented to him.

The King during the vision, it was disclosed to him that the new name of the Tinkhundla System of Democracy should be Monarchial Democracy.

Conquer

Another new song that was sung by the maidens was a composition on the newly founded Imbali Foundation.
The song's lyrics are: "Siyabonga Imbali Foundation, sikhali sekugwaza emaveni, ligcabho lakaNgwane siwutsetse lomhlaba usamila."

Loosely translated; 'We thank the Imbali Foundation, a weapon that is ready to conquer the world which has also been introduced at an opportune time for the country."

This year, 55 000 maidens received free toiletry hampers worth E1.6 million from His Majesty King Mswati III before they were commissioned to cut Umhlanga on Wednesday.
The hampers were presented to Imbali courtesy of the Imbali Foundation whose vision bearer is Inkhosatana Sikhanyiso.

Hampers

Bishop Mavovo Mkhonto disclosed that the total cost of the toiletry hampers that were received by maidens shortly before being commissioned by the King to cut Umhlanga was E1 650 000.
The hampers which came with a free bag contained a comb, soap, sanitary pads, panty liners, toothpaste, tooth brush and facecloth.

The foundation initiated a campaign to collect and provide toiletry hampers for maidens at the Reed Dance with intent to promote a healthy lifestyle among the maidens.
: MPs assault allegations
Should an independent team be astablished to probe the MPs' assault in a cell allegations?