Girl (18) disqualified for wearing trousers in Royal Kraal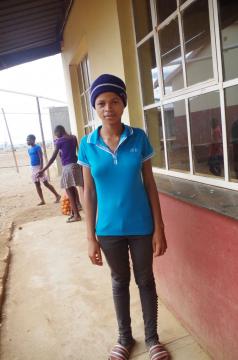 LUBULINI – An 18-year-old girl was disqualified from running for a Parliament seat at Lubulini because she wore a pair of trousers at the Royal Kraal.

Mana Mavimbela was disqualified at Lusabeni Chiefdom by the Presiding Officer Lindiwe Sukati for her dress code.
Mavimbela wore a pair of black jean trousers and a golf T- shirt.

She was refused the chance to run for the area's MP seat as the presiding officer said people who dressed like her were not welcome in the Royal Kraal.

Surprisingly Mavimbela was allowed to nominate candidates of her choice during the process.
The young Mavimbela said she was very disappointed at the presiding officer for denying her a chance.
She said she wanted to stand in for the position of Member of Parliament (MP) to be eligible to bring development in her area as it lagged behind other areas.
Mavimbela said she had completed her high school education.

Another candidate who was disqualified was Jethro Mthombo who is a civil servant. Mthombo, a teacher in one of the schools in Big-Bend was nominated in the same chiefdom and when requested to produce proof of approval from his employer, he failed.

However, the presiding officer said she disqualified Mavimbela following an argument from other women who did not approve of her. "I did not take her seriously and thought that she was only joking," said Sukati.
Interestingly, acting Ludzidzini Governor TV Mtetwa said chiefs do not have a right to prescribe a dress code for the electorate.

The acting governor was responding to statements that were made by Mpolonjeni Chief Petros Dvuba that women had to dress respectably for the nominations exercise as they would be taking place at the imi-phakatsi.
Mtetwa is quoted in the Times Sunday as having said: "No one can listen to such statements. He doesn't know what he is talking about."

On the other hand, Sabelo Masuku of the Human Rights Commission was also quoted in the Times Sunday as having said he doubted Dvuba's statements would be observed or implemented as he dismissed the chief's claims as being tantamount to harassment.