King names 18- member Cabinet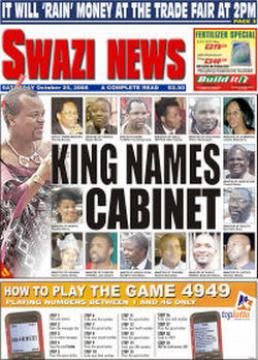 MBABANE-Prime Minister Dr. Sibusiso Dlamini yesterday announced his Cabinet team, which saw four former ministers bouncing back.
The Deputy Prime Minister is Themba Masuku, the man who dumped his job at FAO for a Senate seat. Ironically, Masuku is a former member of Cabinet having served as Agriculture and Finance Minister.
He once served under the leadership of Dlamini before he left for the FAO post. He was appointed minister in absentia.
The four ministers who bounced back are Lutfo Dlamini, who is now the Minister of Foreign Affairs, previously he was Enterprise and Employment Minister, Mtiti Fakudze who is the Minister of Public Service, previously Agriculture Minister, Majozi Sithole who retained his finance post and Hlobisle Ndlovu who will be heading the new Ministry of Sports Culture and Youth Affairs. Ndlovu was Deputy Minister in the then Ministry of Regional Development and Youth Affairs.
Former problem child who declared that he was now a grown up Ntuthuko Dlamini is now Public Works and Transport Minister, a post that was previously held by Elijah Shongwe while artist of note and teacher Macford Sibandze was appointed Tourism and Environmental Affairs Minister, taking over from Thandi Shongwe.
Kukhanyeni MP Clement Dlamini has been appointed Agriculture Minister, while Benedict Xaba is the new Health and Social Welfare Minister, a position that was previously held by Njabulo Mabuza who lost during elections.
It took the PM less than five minutes to announce his 18 member Cabinet, which he announced in both Siswati and English.
"In terms of section 67 (2) of the constitution, it has pleased His Majesty the King to appoint the following ministers," he said before starting with the name of the new DPM, Themba Masuku.
Shortly after that, he led a team of Principal Secretaries and other officials who were present at the Cabinet Offices to witness the appointment of ministers in a loud scream of "Bayethe wena waPhakathi".
He quickly raced out of the boardroom without attending to any questions from the media.
Before announcing the names of the appointed the PM explained that he also advised the king on the appointments as per the orders of the constitution of the country.
"I also advised the king on these new ministers and that means I have an input on what was finally decided," he said.
Overall, the Cabinet is dominated by new faces that are relatively new to mainstream Swazi politics.
From the previous Cabinet, Former Minister of Tourism and Communication, Thandi Shongwe and her colleague in the Ministry of Education, Themba Msibi will be backbenchers in the Senate.
1. Prime Minister - Dr. Sibusiso Barnabas Dlamini
2. Deputy Prime Minister- Themba Masuku
3. Ministry of Economic Planning and Development- Prince Sihlangusemphi
4. Ministry of Finance- Majozi Sithole
5. Ministry Foreign Affairs- Lutfo Dlamini
6. Ministry Public Works and Transport- Ntuthuko Dlamini
7. Ministry of Health- Benedict Xaba
8. Ministry Commerce, Industry and Trade- Jabulile Mashwama
9. Ministry of Local Government and Housing- Pastor Lindiwe Gwebu
10. Ministry of Education and Training - Wilson Ntjangase
11. Ministry of Agriculture- Clement Dlamini
12. Ministry of Tourism, and Environmental Affairs- Macford Sibandze
13. Ministry of Labour and Social Security- Patrick Magwebetane Mamba
14. Ministry of Natural Resources and Energy- Princess Tsandzile
15. Ministry of Sports, Culture and Youth Affairs- Hlobsile Ndlovu
16. Ministry of Information Communications Technol- ogy- Nel'siwe Shongwe
17. Ministry of Home Affairs- Chief Mgwagwa Gamedze
18. Ministry of Public Service- Mtiti Fakudze
19. Ministry of Justice, Ndumiso Mamba
Are you also of the view that prisoners should not be fed meat and bread?