SHARP PAINS KILL TRADE UNIONIST JAN SITHOLE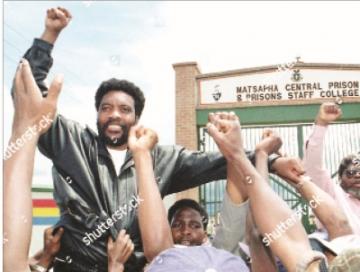 MANZINI – Jan Jabulani Sithole, a famous trade unionist and politician, died of sharp pains on Friday morning at the age of 67.
This was confirmed by his wife, Marilyn reasons n Sithole in an interview yesterday.
This is the second high profile death to hit the leadership of the Swaziland Democratic Party (SWADEPA) in less than three months.
In June, Archie Sayed, one of the founding members of SWADEPA alongside Sithole, died in South Africa and was buried there.
Sithole, the former Manzini North MP and ex-Secretary General of the defunct Swaziland Federation of Trade Unions (SFTU) also died in South Africa, at his other home in Nelspruit.
His wife told this newspaper that her husband had partaken in a breakfast when he passed away after complaining of sharp back pains (lihlaba).
columnist
Marilyn mentioned that he had been sick for quite sometime, but would get better from time to time. This week, she said, he felt better and wrote his column for today's Times SUNDAY edition, which turned out to be his last one.
However, he had taken a break from writing for this publication.
She explained that her husband had not been diagnosed with anything, something that took her aback when she saw him breathing his last breath.
Marilyn said she wished the death of her calm, loving and peaceable husband was a hoax. "It's not a hoax, he passed away," she said. She said she had not anticipated that the sharp pains would kill him. She disclosed that they had eight children, but one died, and six others they adopted. He had four siblings, one of whom is working in Angola. She said she was not sure when the president of the Swaziland Democratic Party (SWADEPA) would be buried but made it clear that his funeral would be in Eswatini.
She said they had two homes in the country – one in Luyengo, and the other at Madonsa in Manzini.
"We haven't yet sat down to decide where we feel he could be buried as we have two homes in Eswatini," she said.
She explained that the sickness was occasional. "I had not reached a point where I would say I saw his death coming," she said. Sithole became famous in the country and region from 1995-1997 when the defunct SFTU led the country to a marathon strike on the 27 popular demands.
In August 1994, during a strike by sugar cane plantation workers, the police detained him for about five hours.
In January 1995, the International Labour Organisation (ILO) and Amnesty International received information that Sithole had received a number of telephoned death threats, in which the caller said that his days were numbered if he continued to frustrate and challenge the authorities. These allegations hogged international and local headlines.
In the same month and year, Sithole was threatened with deportation as government claimed his father was a Mozambican, and his mother a liSwati. Government aborted this plan as it was felt that a person, in terms of the culture of emaSwati, has two homes – the father and the mother's side.
On June 3, 1995, the world was informed that police came to his home and handed him a letter from the chief immigration officer ordering him to surrender his passport after he returned from a trip abroad where he had attended an ILO Conference.
Following his return to Eswatini, he was summoned to appear before the Citizenship Board to be questioned about his nationality. The government claimed that he was a Mozambican and were threatening to deport him. The hearing before the Citizenship Board was postponed until July 20, 1995.
He was later kidnapped and abandoned in a boot of a car. All these incidents earned him popularity and recognition among the working class. Seeing that certain elements behind the scenes were playing dirty and spoiling the mission to deal with Sithole, government is understood to have abandoned the plan to deport him.
incidents
In this year, there were a number of disturbing incidents that were thought to be a threat to Sithole's life. There was also an incident in which three men in plain clothes allegedly came to his home one night looking for him. He was not at home.
After waiting for about 30 minutes the men left in a vehicle which was thought to be carrying a police emblem on its doors. A witness noticed that one of the men had a gun concealed inside his jacket. Coincidentally, the phone line to the house had also been cut; fuelling suspicion that certain people were after his life. It must be said that workers in Eswatini under the leadership of the SFTU had announced on July 9, 1995 that they would embark on a national mass stay away on July 17 unless government acceded to the 27 demands, which included social security for elderly people, May Day should be a paid holiday, written-down constitution with a bill of rights, free primary education, etc.
On January 30, 1997, he was arrested with the late Richard Nxumalo, the ex-President of SFTU, Themba Msibi, the Vice President who later became Speaker of the House of Assembly and Jabulani Nxumalo, the first Vice Secretary General who attempted to head-off a general strike.
They were charged with threatening bus owners to keep their vehicles off the road, but were released after a magistrate found there was no basis to the charges.
SFTU and Swaziland Federation of Labour (SFL) later formed a merger, which culminated in the formation of the Trade Union Congress of Swaziland (TUCOSWA).
It was the 1997 strike led by Sithole and others that the country might not forget as a 15-year old girl, Noxolo Mdluli, was killed at KaKhoza in Manzini. At that time, the SFTU had 83 000 members in a population of 900 000 people.
At least 10 000 people would converge at Bhunya Stadium for mass meetings organised by Sithole.
Dozens of people were injured when police shot at demonstrators. It must be said though that police had refuted allegations that they were responsible for the death of Noxolo. It must also be mentioned that Prince Mbilini, the then Prime Minister, had been dismissed by the King, presumably for failure to deal with labour unrest. Sibusiso Barnabas Dlamini took over as the premier and put trade unionists in jail in 1997 for leading the strikes.
Sithole's close associates said he clashed with other political parties because he believed in the institution of the Monarchy. In his first address when he launched SWADEPA at Salesian Sports Ground in Manzini, the deceased trade unionist and politician declared that his party would support the King and the Institution of the Monarch because they unified the nation, even pointing out that monarchs around the world were responsible for the peak phases of the economy in terms of wooing tourists to their countries.
He said he only wanted the Monarch to reign above politics. When he introduced himself to His Majesty the King at Lozitha Palace in 2013, he was criticised by Chief Mvimbi Matse for declaring before Ingwenyama that he was the president of SWADEPA. "Your Majesty, I am Jan Jabulani Sithole representing the Manzini North Inkhundla, and I am also the President of SWADEPA," declared Sithole to the chagrin of traditional diehards.
As usual, the King maintained his cool, smiled and let Sithole finish his remarks, and he never talked about the Sithole debacle when he addressed members of the 10th Parliament.
On another note, he got terribly sick when he was the secretary general of SFTU and was admitted in South Africa where his medical bill was so huge that one of his critics, who happened to be a senator, then pledged to offer financial assistance.
SFTU and Sithole rejected the offer.
He also caused a high powered government delegation to fly to USA to counter allegations the federation had made against the State, something that almost caused Eswatini to forfeit trade benefits under the Generalised Systems of Preferences (GSP).
His Majesty the King negotiated successfully, and the country was eventually not removed from the GSP.
Jabu Nxumalo's
condolences
Jabu Nxumalo, the then assistant Secretary General of SFTU, passed condolences to the Sithole family, his friends, colleagues in Eswatini and internationally for the loss of his former colleague in the labour movement.
He was specifically asked one direct question: "Did Jan Sithole contribute to the economy and social wellbeing of emaSwati?" Nxumalo responded: "Pertaining to pure labour issues centred on trapartism, collective bargaining and freedom of association as outlined in the international conventions, Jan Sithole actually contributed, and I don't want to lie about that."
He said he was not qualified to talk about Sithole's life outside pure labour issues. He said his working relationship with him started in 1988 when he (Nxumalo) was an executive member of the Swaziland Union of Financial Institutions and Allied Workers Union (SUFIAW), which was affiliated with the defunct SFTU.
Nxumalo said they created the 27 demands alongside Sithole, and all of them never, at any point, called for regime change. He said all those who claimed they called for regime change were not telling the truth.
The businessman and trade unionist, who later resigned from SFTU, said many of the demands they pushed for adoption by government were implemented.
He made it clear though that Prince Mbilini never caused the arrest of any of them, but Sibusiso Barnabas Dlamini was responsible for their arrest.
He said the only negative thing Prince Mbilini did to them was when he told the nation that they (trade unionists) wanted to overthrow the Institution of the Monarchy (sebafuna lobukhosi betfu), something that was false and character denting.
He said he, Jan and others were at some point incarcerated at Matsapha Maximum Prison for the 27 demands, which many of emaSwati are benefitting from, such as the constitution, elderly grants that they vigorously advocated for, and free primary education.
He pointed out that certain politicians, some are still in active politics, knew what exactly they did to them to besmirch their character so that they appeared bad to the authorities of the country. The most important thing which they fought for as trade unions, he revealed, was the non-commercialisation of water and electricity.
"It is a right to drink water. Even if you live in poverty, you have no food but you must drink, and that's what we, together with Jan, fought for," Nxumalo said.
He mentioned that they also called for non-taxation of terminal benefits, something that made even the current Eswatini Revenue Authority (SRA) to place those benefits under favourable tax threshold.
"We were arrested for all of the things I am mentioning to you," he explained.
"You, in particular, were still a journalist when the Princess Pholile Hall was turned to a magistrate court to try us. There's another incident in which I doubt you may recall when the Siphofaneni Police Station's reception was also turned into a High Court where we would also be tried and sentenced," Nxumalo recalled.
The most important thing which he kept on emphasising was that Sithole, him, Themba Msibi, Richard Nxumalo (late) and other trade unionists in the leadership never thought of regime change. Asked when he last met Sithole, he said it was in 2014 when he (Sithole) was the chairman of the House of Assembly's Portfolio Committee on the Ministry of Labour and Social Security.
preferences
He said his union, SEIWU, had written a letter to Barack Obama, the ex-President of the USA, requesting him not to removed Eswatini from trade preferences under the African Growth and Opportunity Act (AGOA).
He said Sithole also called him for advice to join politics, the same way the then trade unionist leader Frederick Jacob Titus Chiluba, the deceased former President of Zambia, asked for his opinion before he joined the presidential race.
He said many of the things they raised with Sithole were included in the National Development Strategy (NDS), which was chaired by Rev. Johannes Mazibuko of the Mbabane Alliance Church. The NDS used to host workshops at Pigg's Peak Hotel and Casino, and SFTU delegated Nxumalo to attend the sessions, which discussed politics and socio-economical issues. Manzini North MP Macford Sibandze said though Sithole defeated him in the 2013 elections, they maintained a professional relationship. "That's why I never disturbed him while in office because I avoided a situation of having two MPs in one constituency," he said.
He mentioned that Manzini North Inkhundla has been lucky to have chosen intellectuals who included the late Mntonzima Dlamini, Dumsile Sukati and Jan Sithole.
"Manzini North must always keep up that spirit of making intellectual choices as it benefits not only the constituency but the country," he said.
"It helps choosing someone with a track record of leadership."
After Sithole had lost elections in 2018, Sibandze mentioned that he came for a handover, a thing that doesn't happen in politics. "I allowed it to happen because of our deep-seated understanding of the game of politics. May he rest in peace," said the MP. The People's United Democratic Movement (PUDEMO), in a statement, said it received with shock the sad news of the passing of Sithole.
revolutionary
Wandile Dludlu, the Secretary General, said they deep their revolutionary banner in honour of this outstanding figure in the liberation course of the people of Swaziland from Tinkhundla.
He passed their condolences to SWADEPA and the Sithole family. TUCOSWA wrote: "a giant has fallen! A hero! A fighter and a trade unionist par excellence!" Secretary General Mduduzi Gina said Sithole had gone but his revolutionary spirit would remain intact in the hearts of workers as an inspiration to continue to fight with zeal.
Gina said the deceased former trade unionist was an internationalist of note and had put the issues of the working class of the country in the map of the world.
Notwithstanding the size of the country, he said worker challenges in Eswatini were profiled and articulated correctly by Sithole. He said he was a household name on matters of workers rights and general civil liberties.
"Our sincerest condolences go to his family, to wife Marilyn in particular and his children and grandchildren. We extend our condolences to the Political Party Assembly, specifically to the Swaziland Democratic Party, whom we were briefed did everything humanly possible to see to it that Jan gets the best medical attention," he said.
Vincent Ncongwane, a former Secretary General of TUCOSWA, said: "a giant sleeps." He said it was 8:21am when he received the sad news. He said yesterday morning turned out to be one of those he would love to hate.