'SENATE ELECTION OPEN TO HIGHEST BIDDER'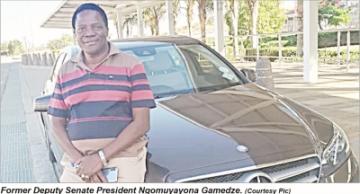 MBABANE – The Senate election is open to the 'highest financial bidder'.

This is an allegation made by Senate hopeful Mpendulo Ngomuyayona Gamedze, who has since withdrawn from the election race.
The House of Assembly is expected to elect a senator to replace the late Mike Temple during this afternoon's sitting.

Gamedze formally withdrew from the race through a letter addressed to the Returning Officer of the Senate Elections Act, who is Clerk to Parliament Ndvuna Dlamini. In an interview, Gamedze alleged that some MPs wanted ridiculous amounts of money to be given to them in order for one to secure a vote. He alleged that the money demanded by some of the legislators was not less than E10 000.

Gamedze was nominated among four other individuals last Thursday in accordance with the Senate Elections Act of 2013.
In his withdrawal letter, Gamedze, who is a former deputy Senate president, stated that he had unfortunately observed a very disturbing practice that seemed to 'indicate that the election is open to the highest bidder'.

Withdraw

"I am of the opinion that the election will consequently not be fair, just and in national interest. I therefore find myself with no option but to hereby respectfully withdraw my candidacy for the election of a senator," wrote Gamedze.
Gamedze was nominated along with Bongani Matsebula, Jacques Potgieter, Sifiso Mabuza and Jimmy Hlophe, who were all said to be businessmen according to Speaker Petros Mavimbela.
Gamedze said he had been humbled by the nomination, but respectfully had to withdraw his candidacy.
Asked what he was basing his allegations on, Gamedze said he had been campaigning for the position and he knew what went on on the ground.
"I have been campaigning and I am not fabricating this, I am saying what obtained," he said.

He alleged that he had approached many members and a majority of those he spoke to wanted money.
Gamedze, however, said others were forthright and told him they already had their preferred candidates.
He said some of the legislators also stated that they had spent money at their constituencies in order to get a Parliament seat.
The threshold for winning the Senate seat is for a person to at least get 37 votes.

He said Parliament would continuously appear in bad light. He said it was better in the past where the majority of votes secured a person a seat.
"In the past it was a real contest and you could not just go to Parliament by favour," he said.
He alleged that there were people whose names were not even known in Parliament and did not participate in debates yet they had seats because they had paid for them. Gamedze said Parliament was losing a very experienced person in him as he was one of the longest serving legislators in the country.

He said his experience went back as far as when the Constitutional Review Commission (CRC) was in place and when the Constitution was passed in Parliament. "Many laws have been passed while I was there, including the Sexual Offences and Domestic Violence (SODV) Act," he said.

Experience

Gamedze stated that he was not saying he was better, but his experience was similar to that of former Senate President Gelane Zwane whom he referred to as one of the best leaders Parliament had ever seen. He said he wasn't concerned about himself, but there was no way he was going to fork out money to get into Senate.
Gamedze said if some parliamentarians continued operating in this manner, it was a recipe for disaster.
"If the election is for sale, there are opportunistic organisations that can pay parliamentarians in order to push their own agenda," he said.
The businessman said he had been observing with keen interest some of the motions which had been debated in the House of Assembly.

He said he suspected that some of the MPs were not well-versed with House procedures, particularly on declaring interest in a matter.
"Before you debate a motion you declare an interest, that is why when they debate they want to fight because they do not declare an interest," he said.
He said MPs should ask a colleague to move a motion on their behalf if they had interests in that matter, adding that he was appalled to hear some names of people being mentioned yet it was unprocedural to do so in the House, especially since they could not come and defend themselves.

He said the MPs would eventually be engaged in physical fights in Parliament because a majority of them were seemingly serving their own interests.
Gamedze said for example, he personally was not in favour of the Prevention of Organised Crime Act (POCA) of 2018, but there was a procedure of amending it instead of the manner in which the motion was passed. He submitted that they would ruin good things for the ordinary liSwati because they did not want to follow procedure.

"I don't know the players involved, but they must follow the procedure which will ensure that the law is amended," he said. Gamedze said he could not go for a position which was against his ethics.
He lastly thanked all the people who had supported him and said they must elect a capable individual with a proper conscience.

Meanwhile, when contacted, Clerk to Parliament Ndvuna Dlamini said he could not comment on the matter as the returning officer had taken an oath not to reveal anything pertaining the Senate election. Efforts to get a comment from House of Assembly Chief Whip, Musa Kunene were not successful as his phone rang unanswered last night. The last attempt was made at 8:25pm.