LIDLOKOLO LAND BELONGS TO EX-PM, DAUGHTER'S COMPANY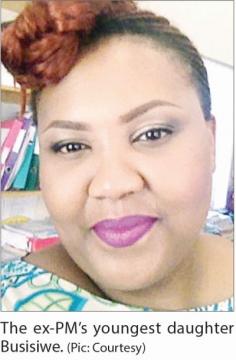 MBABANE – The plot thickens.The retirement house for former Prime Minister Sibusiso Barnabas Dlamini, whose construction is at the taxpayers' expense, is being built on property that belongs to a company owned by the erstwhile premier and his youngest daughter, Busisiwe.
In essence, the house belongs to the owners of the property on which it is being built.
This is despite Finance Circular No.2 of 2013 – the instrument that guarantees Dlamini the house at the end of his term of office – stipulating that 'the house shall belong to the Prime Minister whether built on nation land or title deed property'.

There is now concern that the former PM could turn the house into a business venture by either renting it out or turning it into a guest house.
As earlier revealed, the house is a four-bedroom double-storey mansion that has an outdoor swimming pool and an indoor sauna.

It has been aptly named 'lidlokolo' after the ex-PM said a E3 million house did not fit his status and likened a residence of this worth to 'lidlokolo', which could be interpreted to mean a village hut, a dwelling he said he did not deserve. The land, which is situated at Lugaganeni near Hhelehhele in Manzini, is owned by M&M Properties (Pty) Ltd – a company that is under the directorship of the former PM and Busisiwe.

Principal Secretary in the Ministry of Housing and Urban Development Clifford Mamba claims no amount of money has been paid by government to M&M Properties for the land on which the retirement house is being constructed. Initially, the company (M&M Properties) was owned by the ex-PM and his late wife Jane – Busisiwe's mother, who relinquished directorship on December 14, 2012 following her death.

As revealed by this publication last week, Busisiwe, her brother Muzi and sister Fikile are linked to Elima Properties - the company responsible for constructing their father's retirement house. The link is through one of Elima Properties' registered directors Sifiso Shabalala, who happens to be the manager of Peacock Transport – a company owned by the ex-PM's three children.

Land bought for
E1.5 million

Documents seen by the Times SUNDAY indicate that M&M Properties bought the land at a price of E1.5 million on November 10, 2011 from a company that was owned by the late Deputy Prime Minister, Dr Sishayi Nxumalo.
Is it wrong to change a woman's surname to that of her husband without her consent?