IS 2018 THE YEAR FOR TEXTILE WORKERS?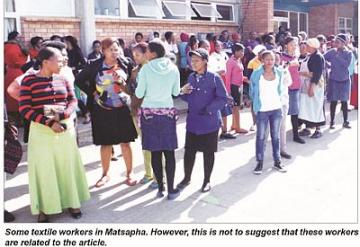 MANZINI – Can the year 2018 be a turning point for textile workers' prolonged poverty?

The workers in the textile industry said as they got into the new year and edged closer to this year's negotiations which are scheduled to start next Wednesday, they would be demanding that government should adhere to TUCOSWA's call for a basic minimum wage, which would see them as part of the least paid workforce, getting at least E3 000 per month.

This means that workers are demanding up to 100 per cent increase this year as most of them earn between E1 300 and E1 500 per month.

They said even though they were supporting the call by the Trade Union Congress of Swaziland (TUCOSWA) from the onset, they were recently encouraged by the USA Ambassador to Swaziland, Lisa Peterson's recent comments after the country was readmitted to the African Growth and Opportunity Act (AGOA).

They said when the ambassador addressed TUCOSWA's Women's Wing Inaugural Conference delegates, she said with the return of AGOA, the country should strive to ensure fair labour conditions and safe workplaces. The shop stewards, who spoke on behalf of the workers, said had analysed the ambassador's call and had since given their representatives, the Amalgamated Trade Union of Swaziland (ATUSWA) a mandate of a minimum wage of E3 000 across the sector.
"We are aware that at the round table, our concerns are usually not taken into consideration but we believe that if we can remain focused and determined we can get what we want.