3 HEAVILY PREG SOLDIERS LOCKED UP IN GUARDROOM NAKED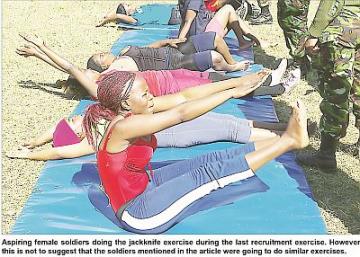 MATSAPHA – Three heavily pregnant soldiers were locked up in a guardroom for 12 hours while stark naked as punishment for not taking part in physical exercises.

The mothers-to-be went for all these hours without food and access to the toilets at the Matsapha Army Barracks on Boxing Day.
Usually, a pregnant woman has to eat quite frequently to supplement for two or more bodies and also has to urinate quite often as her bladder becomes incapable to store urine for longer times due to the pressure exerted by the baby in the womb.

Ironically, the punishment was ordered by their female superior who did not take kindly to the fact that the women who are at advanced stages of their pregnancies did not report for the march.

It should be noted it was the form of punishment that the women are concerned about more than the physical training.
Medical practitioners confirmed that mild physical training was actually recommended to pregnant women.

The women allege that they were no longer fit to take up intense routine exercises meant for physical fitness.
Sources who witnessed the ordeal said all soldiers who were at the camp on Tuesday were called over to start running in order to be fit.
"We all took to the starting point but the three women who are pregnant could not participate because of their condition."
The source said after the session the officers who missed training were summoned by the female boss and taken to task for not taking part in the training.

It was gathered that some female colleagues were assigned to take the three expectant mothers and lock them up in the guardroom as it is always done with officers who have committed offenses within the army base.

However, this move failed and when the supervisor realised that, she assigned male officers to carry out the job.
"We were shocked to see male soldiers storming our dormitories where they dragged us and carried us to the guardroom. It was very humiliating and it was the first of its kind," said one of the pregnant officers.

The mother-to-be said they were still traumatised about the incident because they believe in respect, which they never experienced.
She did admit that going nude was a decision they took in an attempt to deter their male colleagues from implementing the order to drag them to the guardroom, which had been allegedly issued by their female supervisor.

While in the guard house they remained naked for over four hours until some of their friends decided to send them clothes which they wore for the remaining eight hours while they were still locked in.
Is it wrong to change a woman's surname to that of her husband without her consent?