OFFICER INJURED BY STUN GRENADE AT LIMKOKWING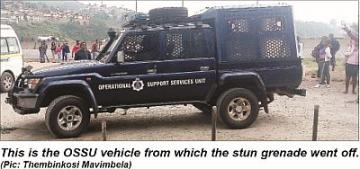 MBABANE – The readiness of police for the LUCT strike went wrong after a stun grenade prematurely went off, injuring a police officer.

LUCT is an acronym for the Limkokwing University of Creative Technology. This happened during a protest action by students of that institution over unpaid allowances. The grenade left an officer from the Operational Support Service Unit (OSSU) with injured hands. There were fears that the officer might have had his hand chopped off, judging from the intensity of the blast. It went off as some students stood near the institution's gate while others were singing and chanting by Ka-Sonny Shopping Complex.

Those who were closer to the scene had a fright after they heard the loud sound similar to that of a gun going off inside a police vehicle and saw smoke escaping through the windows. The terrifying sound came from a Toyota Land Cruiser from OSSU, which was parked a few metres from the LUCT gate within the campus.

Some students walked away as they thought it was a gunshot directed at them; however, the more curious ones went closer to the institution's fence to see what had happened. Police officers who were nearby went to inspect before quickly driving out of the campus. Inside the OSSU vehicle was the driver and another officer who was presumed to be in the car when the terrifying sound was heard.

The injured officer was transferred to another police vehicle that was parked by the off-ramp by Sidwashini and rushed to hospital.
Chief Police Information and Communication Officer Superintendent Khulani Mamba, confirmed that an officer from OSSU was injured at the institution. Mamba clarified that it was not a gun that went off but a stun grenade.