I FEARED FOR MY SAFETY AS JOY VIOLENT - PM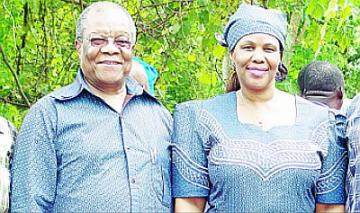 MBABANE – Prime Minister (PM) Sibusiso Barnabas Dlamini has cited incidences of violence as one of the major reasons he wants out of his marriage to Pastor Joy Dlamini.

In the combined summons that was filed at the High Court by the PM, some of the allegations are that his wife, who is also the Director of Library Services, was violent towards him and their support staff.
It is alleged that Pastor Joy once got so violent against one of their assistants that she used a broomstick, which eventually broke while meting out punishment.

The premier, in his court papers, cited that life had become unbearable between them due to his spouse's behaviour towards him and the staff.
Another alleged incident was that his spouse once snapped and physically assaulted one of her bodyguards after a certain misunderstanding.
Some of the details cited by the premier as the major falling out in their marriage cannot be repeated for now as the matter is still to be heard and determined by the court.

So serious was the alleged violent behaviour that some of the staff members of the couple were forced to resign within a week of their employment.
In the summons, the PM narrates several incidences whereby his spouse allegedly exhibited unbecoming behaviour and he sometimes no longer felt safe due to his wife's temper.

These are allegations contained in court documents whose veracity is still to be tested in court.
Pastor Joy was also accused of having a tendency of throwing unnecessary tantrums, which she also displayed in public during one of the couple's international trips
: MPs assault allegations
Should an independent team be astablished to probe the MPs' assault in a cell allegations?