JUSTICE MAPHALALA CONFIRMED AS CJ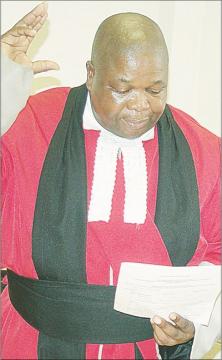 MBABANE – Justice Bheki Maphalala has been officially confirmed as the Chief Justice of Swaziland.

Maphalala who was all along holding this position on acting basis was confirmed through an extraordinary gazette which was issued yesterday.
According to the gazette dated November 10, 2015, Justice Maphalala's appointment is with immediate effect. There will be a swearing- in ceremony at the High Court this morning, where the chief justice will take oaths of allegiance and of office. Justice Maphalala was appointed acting chief justice after the dismissal of Michael Ramodibedi.

His Majesty King Mswati III removed Ramodibedi as the Chief Justice of the country for serious misbehaviour.
The removal of Ramodibedi came after an inquiry by the Judicial Service Commission (JSC), which was chaired by Justice Maphalala, which made its recommendation to the King after concluding the impeachment process against him.

The appointment of Justice Maphalala as the country's chief justice also automatically confirms him as the chairman of the Judicial Service Commission. He was also holding this position on acting basis.
The chief justice was the first Swazi to be appointed permanent judge of the Supreme Court.

While still acting, Justice Maphalala worked hard to restore confidence in the justice system.
For the first time in the history of the Judiciary, interviews for judges were conducted publicly.
The media was allowed to observe as the JSC conducted the interviews.

The chief justice said the reason the interviews were conducted publicly was to show transparency.