DOZENS OF CATTLE DEAD AT LUBHUKU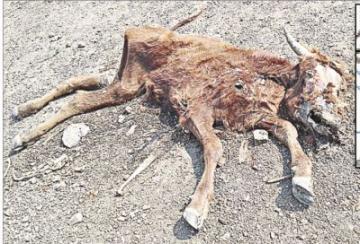 LUBHUKU – Scores of cattle have reportedly died at Lubhuku and surrounding areas since July as a result of the severe drought that has hit the country.

Lubhuku is a rural community situated near Mpaka, which is under the authority of Chief Ndlondlo Tsabedze.
According to livestock farmers in the area, the number of cattle that have died could be more following reports that some cattle died in the forests and were never discovered.

The situation, livestock farmers said, has been exacerbated by the extremely hot whether conditions that were experienced in the country in the past two weeks.
"Just last week alone, about 10 cattle died here," said a livestock farmer from Lubhuku.

"The cows are weak because there is no grass and enough water so they cannot withstand the extreme weather conditions," he said.
This reporter was shown around the banks of Lubhuku dam where already decomposed carcasses of cattle are mostly found.

Some residents were spotted near the dam carrying the meat of a cow that had died the previous day.
"The cow died on its own and we are now taking the meat home," Mpendulo Siwela said.

Mpendulo was seen pushing two wheelbarrows full of meat with his sister, Sihle.
Two other children were also spotted carrying buckets full of meat from a cow that had died near the dam.
Lubhuku livestock farmer Phillmah Mazibuko estimated that the total number of cattle that had died so far could be more than 1 000.

Veterinary

A local veterinary officer who is said to have up-to-date statistics about all the cattle that have died at Lubhuku was not found at his house and his mobile phone also rang unanswered.
However, a senior veterinary official from the Lubombo region confirmed that the number of dead cattle at Lubhuku could be over 1 000.
The official, however, referred this reporter to the Director of Veterinary Services in the Ministry of Agriculture Dr Xolani Dlamini for an official comment.





Do you believe that Eswatini is committed to ILO's principles and values?