COPS FIRE TEAR GAS TO DISPERSE ROWDY ZHENG YONG WORKERS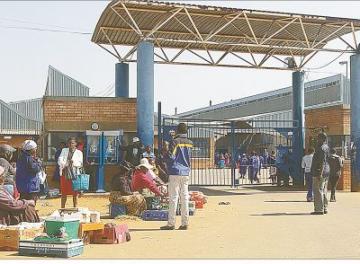 NHLANGANO – Police fired tear gas yesterday to disperse textile workers who had turned rowdy following a dispute involving security guards.

The security guards stationed at Zheng Yong Garments, a textile factory in Nhlangano, had to be whisked to safety as the angry workers bayed for their blood. The close to 2 000 workers had to be turned back home while management deliberated on the matter. Witnesses said the violence
was sparked by an incident, on Wednesday afternoon, where one of the textile firm workers was attacked by the security guards, following a misunderstanding with one of them.
Apparently, the worker had complained after he discovered that his E10 had gone missing from a table where one of the security officers was keeping guard.

An argument ensued when the man enquired about the whereabouts of his money from the security guard, leading to an exchange of blows.
Other security guards stationed at the company are said to have wasted no time and rushed to the scene upon receiving a report.
However, it is alleged that instead of calming the situation, they added fuel to the fire.

"They all charged at the helpless worker. Colleagues only heard him scream under a hail of batons and kicks," said an eyewitness.
The man sustained serious injuries to his head and bled profusely. He was lying in agony, and in a pool of blood, when some of his colleagues intervened, to ask one of his supervisors to ferry him to hospital.

Management averted a potentially bloody showdown as agitated colleagues bayed for the blood of the security guards back at the textile factory premises, while the injured worker was being rushed to hospital.