MARIO ADDRESSES CONGREGATION DESPITE GAG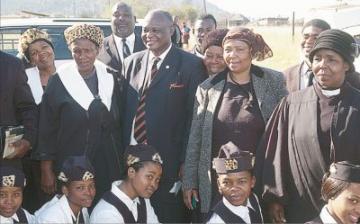 MAKHOSINI – Unfazed by an order not to address the public, as one of his bail conditions, PUDEMO President Mario Masuku courageously spoke to a congregation of his church at his home area yesterday.

This was during the church service at the Turner Memorial African Methodist Episcopal Church, in Makhosini.
His appearance in church was his first in public since his release from custody, on E15 000 bail last Tuesday.

Asked if his decision to talk to his fellow worshippers would not be viewed as a defiance of one of his bail conditions in some quarters, Masuku responded to say: "That is for God to say."
PUDEMO is an acronym for banned political party, the People's United Democratic Movement.

ideologies

The leader of the political party told the congregants that he would not compromise his values and ideologies in fear of being punished.
He expressed his gratitude to the people of his church and the Makhosini community for being supportive to his family during the sad loss of his mother three months ago.

He also thanked the church members, and especially the leadership, for their consistent solidarity while he was confined to the 'university', as he would continuously refer to prison.
Masuku told the congregation that there are certain core convictions that he believes in.

"I believe in righteousness and due justice, as expressed by the Prophet Amos 5:23-25. In the scripture, the prophet says let justice flow like a river; let justice be on the side of the poor and the less privileged," he said.
The political activist also read from the book of Acts 12:5 and also from Matthew 14:22-33.

Masuku and his family members received a rousing ovation from the congregation, which was eagerly awaiting his first appearance in church, since his release from custody.
Worshippers rose to their feet in applause as Masuku moved forward to address the congregation, for the first time after the many months he spent at a Correctional Services facility.

Masuku along with his wife, Thembi and son Mzwandile, were welcomed to the church service by the church leader, Reverend Phumzile Dlamini, who said they were very happy to have Masuku among worshippers – after a long time.
"If everything could go according to our wishes, he would never set his foot back into that place (prison) ever again, especially because he never spoke ill about anyone," remarked the cleric.