ZAVALE WAS NEVER TORTURED - COPS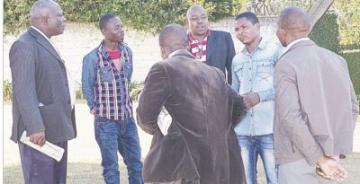 MANZINI – The police officers who are accused of killing Mozambican national, Luciano Reginaldo Zavale (35), have come out to say they did not torture him.

They claimed that he panicked and collapsed during questioning inside the police station.
According to the account given by the police officers, Zavale allegedly complained of a severe headache before taking off his T-shirt because he was feeling extremely hot and then he collapsed.

One officer from the Criminal Investigations Department (CID), who, however, refused to have his name published, and was one of the officers who had apprehended Zavale, said it was normal for suspects to panic when being questioned at the police station.
The officer further revealed that Zavale had earlier informed them that he was suffering from a headache after they had caught him and were taking him to the police station.

"After he was apprehended, we did mention that we would deal with him, however, it was not in a bad way. While we were walking to the police station with him, Zavale said he was not feeling well and had a throbbing headache.

"Upon arrival at the police station, he started sweating and even took off his T-shirt. It is normal for suspects to panic when questioned and some even soil themselves," the police officer said. Another officer corroborated the statement that when Zavale was being questioned inside the CID office, he complained about the headache and said he was feeling extremely hot before he took off his T-shirt and started sweating.