'˜We'll vote for those who give us food'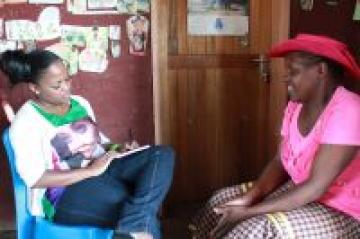 KASHALI — Aspiring MPs under the Nhlambeni Inkhundla need to only distribute food parcels and they are guaranteed a seat in the 10th Parliament.
This was the confession of several women under the constituency who admitted that due to hunger, they would not hesitate to cast their vote for people who will campaign using food.
This is despite the fact that there is a Bill, which is being piloted where candidates found to be using food as their campaign strategy, could be fined up to E50 000.
Phindile Dlamini, a widowed mother of six, said she would gladly vote for any person who would give her and her family food.
"I do not remember when the last food distribution by our MP was held and I suppose those who used to assist him have stopped," said Dlamini.
Dlamini was interviewed last week Tuesday during a trip to KaShali and Nhlambeni where journalists were taken on an 'on the job election coverage training project' for Swazi journalists.
The Media Institution of Southern Africa (MISA) in partnership with a human rights non-governmental organisation called COSPE is running the training project.
She said although she was not aware of the piloted Bill, the team from the Elections and Boundaries Commission (EBC) had warned them against voting for people who suddenly showed interest by assisting them with little gestures.
"However, now that you state that there might be such a law, I would accept the food hampers discreetly," she said.
"There is no way I would turn my back on food donations and of course I would not tell the world about it, but such a person would have my vote because my children and I are starving," she said.
She said she had no problem with the current Member of Parliament, Frans Dlamini, as he was hard working, but said food was key.
Dlamini said when her husband died in 2005, her brother-in-law dispossessed her of fields which had been rightfully left to her by her husband.
"During the first year, I ploughed my fields and he brought a tractor over and destroyed my crops and planted over them," she said.
She said although KaShali was considered a semi-urban area, it was no different from rural areas as there was no food and she had no fields.
"I have gone to the police on countless occasions to report my brother-in-law but to date, I have received no proper assistance as even this year, he is still using the fields left to me by my husband," she said.
She said she even had documented evidence which had also received a seal of approval from the chief's kraal. The area is under Chief Matatazela.
"However, even after the royal kraal had confirmed that I was the rightful owner of the land, the police have failed to assist me," she said.
Dlamini said the police have often told her that the only way she could reclaim her land was by making an application through the courts.
"However, being the poor person that I am, I cannot afford the services of a lawyer and I do not know who to turn to," she said.
Salaphi Ngwenya (63) said she could also be tempted to vote for someone who would distribute food.
"People are hungry and if they are promised food, it is highly likely that they will vote for that particular person," said Ngwenya.
She said she had missed the voter education exercise but was a keen listener of the EBC radio programme.
"Although Mzwandile (EBC Deputy Commissioner) preaches against such practices during the programme, on the ground things are very different," she said