E2.2m guardhouse for army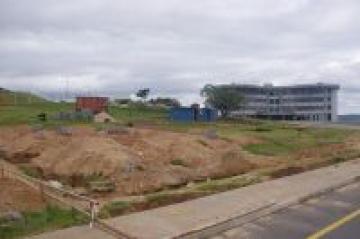 MBABANE – The Ministry of National Defence and Security is building a guardhouse worth E2.2 million at its offices near Lozitha Palace.
It will not be a normal guardhouse, said the Principal Secretary in the ministry, Andrias Mathabela.
The multimillion guardhouse will house more than eight soldiers who will occupy it day and night. They will take turns primarily to guard Lozitha Palace, Mathabela revealed.
He said the guardhouse is being built onto already existing structures underground.
The PS said he could not reveal the nature of the underground structures.
The construction site is a stone's throw from the ministry's multimillion Emalangeni building near Tibiyo TakaNgwane.
The exact budget for this project is E2.26m as indicated in the ministry's annual performance report for 2012/13.
Mathabela said the construction was at foundation stage.
He described it as something that will resemble a compound or semi barrack but have its own unique appearance. It is an extension of the Ministry of Defence Office construction project.
Elaborating further he said, "It is not a literal guardhouse but has several components inside it to accommodate male and female soldiers.
"The soldiers will stay there to be on duty at the palace or just to be on standby. They will even be able to sleep inside and prepare meals," he said.
"Asked about the expense, Mathabela clarified that the guardhouse was being built on land under which a structure already existed. Therefore, the guardhouse needed to be supported by special pillars, which were very costly.
He said the guardhouse was a necessary feature at the location. The gate to Lozitha Palace has a guardhouse which is smaller in size and is basically a room where two or three security personnel are stationed, but do not sleep there.
Meanwhile, other undertakings still within the Ministry of Defence offices near the palace, include the installation of access control costing E2.2m, a retainer wall costing E1.5m, perimeter lighting and parking worth E850 000, and also furnishing the offices at a cost of E410 700.
Therefore, according to the annual report the total budget for the ministry's offices project including the guardhouse is E8.39 million.
Other projects listed in the ministry's report include the refurbishment of army barracks to the tune of E30 million. The St George's Army Barrack will be upgraded from this budget.
The fencing of Mdzimba Farm has a budget of E333 000. Meanwhile, Major Khanya Dlamini, Umbutfo Swaziland Defence Force (USDF) PRO, referred any questions pertaining to the guardhouse to the Ministry of Defence PS.
Is it a mansion? - SNAT
MBABANE – Workers unions in the country have found it too disturbing that so much money is put into building a guardhouse.
They felt it did not make sense that a country with a government fresh from years of fiscal challenges can have funds for the construction of the structure at exorbitant costs. Interviews with representatives from the Swaziland National Association of Teachers (SNAT), National Association of Public Service and Allied Workers Union (NAPSAWU) and Trade Union Congress of Swaziland (TUCOSWA) went as follows:
Muzi Mhlanga (SNAT Secretary General):
It's hard to believe that it will cost E2m, could this be more like a hostel? Anyway, this is the government department said to be spending E2.4 million a day. But the guardhouse is an unnecessary expense which I think the country doesn't need. This is sheer extravagancy, is it a mansion?
Mduduzi Gina (TUCOSWA 1
st Deputy Secretary General):
Perhaps the country should start looking at how much can really be spent on the army. I mean there is no prospect of foreign aggression to Swaziland. But if there is money to engage in such projects at the E2m cost then it means there is enough finance in government to give salary increments to workers.
Musa Mdluli (NAPSAWU Secretary General):
This figure is too high. We thought government cannot spend such an amount when it just emerged from a financial meltdown. It's just disturbing to us, but what about other guardhouses near or at other royal residences, did they cost E2m? We are not saying guardhouses should not be built, it's the figure that is spent that becomes a great concern.
---
COMMENTS:
- Bamangaliswa yini ke laba? Every head of state in the world has complex security to protect their person and their family. Why is it that when it comes to our king it has to be an issue?? Has anyone of these people seen Obama's security, for example? Or even Queen Elizabeth's? Let me tell you, our king's security is nothing compared to other heads of state around the world. There is no price for life so dont start with the expenses issue. It's a non-issue compared to the value of life. So please unions and whoever you are sit down and concentrate on workers issues. You people have failed to even secure simple medical insurance for workers yet you think you qualify to be future political leaders. Asenisiyekele!!!!
March 21, 2013, 7:17 am, Lobusika Dlamini
Is it wrong to change a woman's surname to that of her husband without her consent?