Men (60) rape girl (9), pay her E1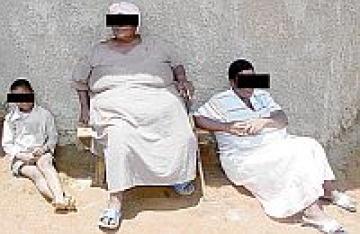 NHLANGANO - Two elderly men allegedly had sexual intercourse with a nine-year-old girl on different occasions and paid her E1 afterwards.
Both men are estimated to be over 60 years and they are beneficiaries of the government elderly grant – which is given to those aged 60 and above.
The girl is in Grade Two and stays at her parental homestead at KuMhlaba in the Shiselweni II constituency.
Her grandmother, *Jane Matsa, is a shebeen queen who earns a living by selling traditional brew (umcombotsi) to the public.
Sex
Both men are patrons at the drinking spot and residents of the area.
The girl, in an interview which was conducted through the consent and presence of her grandmother and aunt, said she had sex with the men inside a toilet, a rondavel house and in a forest next to the homestead.
She said these incidents happened after the men got drunk and would offer her E1 in return for sex.
"One of them used to follow me when going to the nearby river to fetch water and told me he loved me.
Offered
"In the first instance, he said I should have sex with him because I was beautiful and offered me E1. After he was done, we went back home together and he continued drinking. I had sex with him twice in the forest," she said.
Regarding the other man, who she is related to, the nine-year-old narrated as follows: "I was inside the rondavel to put back a container after returning from the river to fetch water and found him asleep inside, drunk.
Kissed
"He told me to come closer to him before holding me tight. He then kissed and had sex with me."
She continued: "We used to do it even in the toilet and I would be given E1 which I used to buy biscuits and sweets at school. All these would happen in broad daylight without the other patrons noticing," she said.
Her grandmother confirmed that the man frequently slept at the rondavel when drunk.
"He often sleeps in the rondavel after getting drunk and in other instances he sleeps until the next day.
"I was shocked when I discovered he had turned my house into a sex den. I stopped them from going to the toilet after I got wind of the matter," the old woman said.
Confessed
She further related: "I got to know about the matter after hearing other children making fun of my granddaughter. She later confessed and told us that the men gave her money.
"She also told us of a Grade VI boy with whom she had sexual relations on a rock in a forest. I want these men locked up for the pain they have brought to this family. I also checked the girl's private parts and I could tell something was going on."
Last Friday, a team of officers from the Shiselweni Regional Education Office (REO) and Save the Children visited the family and interviewed the girl and grandmother.
The matter has since been reported to the Domestic Violence and Child Protection Unit at the Nhlangano Police Station.* Not their real names.
... I only kissed her - accused
NHLANGANO - One of the two men accused of having sexual relations with the nine-year-old girl said he only kissed the minor.
"I am aware of the matter you are asking me about as I was once approached by her grandmother. I only kissed the girl and I never had sex with her. I gave her money because she had asked for it. This matter annoys me a lot as I am accused of something I never committed," the frail-looking man said.
The man also said he was banned from going to the shebeen – a stance that was also confirmed by the grandmother.
He said he was approached by the grandmother regarding the matter and was told not to set foot again at her homestead.
"The shebeen queen recently banned me from setting foot at her homestead," he said.
The other man, however, could not be reached for his side of the story as he was reportedly at work and was reported to be without a cellphone.
One accused on ARVs
NHLANGANO - One of the men accused of allegedly having sex with the nine-year-old is reportedly on antiretroviral treatment (ART).
According to the shebeen queen, the man, who is related to the family, confided to them that he was taking ARVs after testing HIV positive some years ago.
"He is open about his status and normally tells us when going to the clinic to fetch the pills. He normally refers to the pills as his idakfan and at times sends my daughter to fetch the pills on his behalf if he is held up at work.
We are very hurt by this and we will not rest until both men are sent to jail for bringing pain into the family. I banned them from coming to buy traditional brew after I confronted them and I still wonder why they did this to the child," she said.
---
COMMENTS:
- Oh my God! How I wish I could save that child, I hope the DPMs office takes action asap.
December 10, 2012, 5:01 pm, Karen
- oh my God just read the story of the 9 r old gal it is realy touching my soul, and cant beleive of how heartless man , to do that to their grand children .Honestly they deserve to rote in hell.
December 10, 2012, 5:01 pm, sphephile maseko
- Rapist men should have their penis cut off
December 10, 2012, 5:01 pm, Angel