Bishop Ncamiso Ndlovu is dead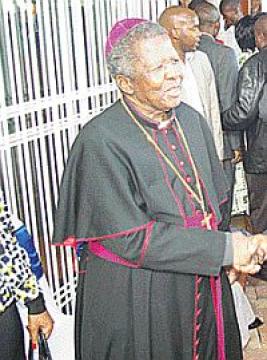 MANZINI – Long serving Catholic Bishop Louis Ncamiso Ndlovu has died at the age of 67.
Bishop Ndlovu passed away at Mkhiwa Clinic where he was undergoing treatment for heart failure yesterday at about 1.35pm.
He had been admitted to the clinic on Thursday night, but those close to him said the situation took a turn for the worst on Sunday.
"On Saturday he was a bit better as he even left the clinic and went home to fetch something and then returned to the clinic as the doctor had not discharged him," said a close church member.
However, his condition is said to have worsened on Sunday.
"This morning (yesterday) we went to visit him and found that he had collapsed and the health professionals were resuscitating him. Arrangements were made to take him to another hospital through a Trauma Link Ambulance but the medical experts preferred that he should stabilise first before embarking on the journey."
The Bishop had been put on life support, and was under constant medical watch when he passed on.
His demise was confirmed by the Secretary and Financial Administrator in the Catholic Church Father Sakhile Ndwandwe, who said the church was still in a state of shock.
"He was admitted on Thursday but his condition got worse over the weekend. Today (yesterday) the situation was even worse when we went to visit him. The church is still to meet and will release more details about the services to be held in his honour tomorrow," he said.
The Bishop's brother Maduduza Zwane said he was informed by the church leaders on Thursday that the Bishop had been admitted to Mkhiwa Clinic.
"When I called him he said he suspected that he had been exposed to extreme cold during a Catholic Pilgrimage service held at Mbuluzi last week.
"This morning, we were informed that his condition had worsened and we drove to the clinic," Zwane said.
He said when his brother initially complained of having been exposed to extreme cold, he had assumed that the cold later developed into pneumonia. "But when we went to the clinic today, we gathered that he was being treated for a heart attack," he said.
He said efforts were being made to transfer the Bishop to Milpark Hospital in South Africa.
"But while we were sorting the paperwork, we lost him," he said.
Zwane said the death of his brother was a great loss to the family.
---
COMMENTS:
- Rest in peace Gatsheni Boya Benyathi idla amagatsha indlovu.
August 29, 2012, 8:15 am, Nontokozo Kunene (kozontoko@yahoo.co.uk)

- Eish sahanjelwa mani..Babe Ndlovu you were a great Sherpad siyohlala sikukhumbula Rest in peace kukhanya kwaphakadze makukukhanyele.
August 29, 2012, 11:35 am, Zama Manana (manananicho@yahoo.com)
- May his soul rest in peace. He was one of those people who fought for justice and eqaulity among people.
August 29, 2012, 11:35 am, Banele (gudlizintaba@yahoo.com)

- rest in peace boyabenyatsi u walked your mile
August 29, 2012, 2:03 pm, lucky Mlangeni (lpmncube@yahoo.com )
- one of our own, fighter for the Liberation of the Swazi people, may his aspirations be continued by those who live!
August29, 2012, 2:03 pm, Funwako (charcoalnsibande@yahoo.com)
- rest it peace Ndlovu... im sure Angels are celebrating right now. my deepest condolences to your relatives..
August 29, 2012, 3:45 pm, Priceless Mphile M (mphilepm@yahoo.com)
- Bishop Ncamiso Ndlovu - Zwane Usted ha sido un gran caballero y un hero! Que Tenga un bien viaje al ciello! Muchas Gracias Senora! Have fun in heaven!
August 29, 2012, 3:48 am, Mandla Monty Nkosi (montynkosi@aol.com)