Gag order culprit must face treason charges - Logcogco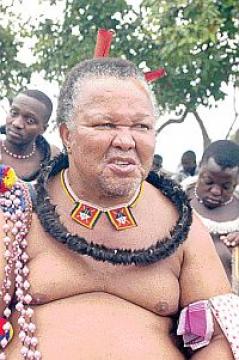 BY LUNGA MASUKU
MBABANE – Chairman of the King's Advisory Body Liqoqo, Prince Logcogco has said treason charges should be preferred against the person who ordered the gagging of Ludzidzini Acting Governor Timothy Velabo Mtetwa as it is tantamount to staging a coup d'état.
In a short message service (sms) the Prince sent to Swazi News on Thursday he said he was aware of a government official who ordered the Swa-ziland Television Authority (STVA) and the Swaziland Broadcasting and Information Services (SBIS), which are both state owned media, not to air Mtetwa's message.
Mtetwa spoke at a press conference, which was convened at Ludzidzini Royal Residence on Wednesday night last week, where he took on Cabinet for defying His Majesty the King's order.
The Prince said he heard the rumour and his belief is that the officials in both institutions did not refuse to air the Acting Governor's speech. He said he was made aware that they were threatened.
"They were merely ordered by a known person under some threat of harm. To me it is the culprit who must face trial for a case of treason. These institutions belong to the state. What was done is a coup. He must be punished. It will set a wrong example to let such an act go unpunished.
"Lunga, consider the fact that TV was relaying a message from the Indlovukazi, who was acting as head of state. Consider further that SBIS and STVA are state institutions. If the blocking of the broadcasts is not a criminal act punishable as treason, then Swaziland has had a successful coup," said Dlamini.
Last weekend the Swazi News reported that both the Swaziland Broadcasting and Information Services (SBIS) and Swaziland Television Authority (STVA) were barred from airing the press conference, which was attended by senior royal family members, like Prince Mahlaba and Prince Masitsela.
In a recording in the possession of the Swazi News Mtetwa sent a strong warning to Cabinet regarding the implementation of the King's order calling on all teachers to return to work.
His Majesty the King issued an order telling all teachers to return to work, but media reports last week were to the effect Cabinet had instructed officials from the Education Ministry to kick out teachers that were reinstated through the King's order.
Speaking at the press conference at Ludzidzini, Mtetwa said no one was expected to oppose the King's Order.
He said people that were defiant would face the law, but in the past they would have been devoured by timfingo. Timfingo have been described as a special type of ant with an insatiable appetite.
Mtetwa said they had noted that the King's instruction seems not to have been well-received in some quarters. He said they would like to stress that everyone should follow the King's order to the letter.
Mtetwa said Sibaya was the highest decision making body in the country and everyone should just do as the King ordered.
The acting governor said he did not want to belie-ve that there could be a person or people that have the guts to defy the King's order.
Mtetwa said he was puzzled that Cabinet was objecting to the return of teachers to their workstations.
STVA CEO mum on gagging
MBABANE – The Chief Executive Officer of the Swaziland Television Authority (STVA) Bongani 'S'gcokosiyancinca' Dlamini said all enquiries regarding the issue of gagging Acting Ludzidzini Governor Timothy Velabo Mtetwa should be directed to the Ministry of Information Communication and Technology (ICT).
"Oh...what can I say? Please refer all enquiries regarding that issue to the ministry in charge of broadcasting. More than that I have no comment," said Dlamini.
Chairman of the board Dr Maxwell Mthembu said he was not aware that their television (TV) station was gagged and he said he only read it in the newspaper that the TV station and radio station were allegedly gagged.
Gag inhibits freedom of expression - MISA
MBABANE - The Media Institute of Southern Africa (MISA), has come out to condemn the gagging of any Swazi citizen including acting Governor Timothy Velabo Mtetwa because this inhibits freedom of expression and media freedom.
The National Director Vuyisile Hlatshwayo said MISA is also concerned that the state broadcaster does not allow a diversity of voices in local media and that is a cause for concern.
"We do not hear the diversity of voices in our local media except for the voices of influential people. The other sectors of society do not have access to the media, which is an infringement of their rights to freedom of expression and media freedom.
Our message is that Government should stop paying lip-service to the guarantees of the Constitution but respect the citizens' right to freedom of expression and media freedom.
This also goes to show that there is a great need for the Swazi people to call for the transformation of the state broadcaster into a public service broadcaster, which is not a mouthpiece of the state but it must serve public interest," said Hlatshwayo.
Hlatshwayo said they know that freeing the airwaves is a process but MISA welcomes government's move to table in Parliament the Swaziland Communications Commission Bill 2010 and Electronic Communications Bill 2010 meant to address information, communications and technology issues in the country.
"Our appeal to government is that those involved should speed up the process in order to allow pluralism in the country. MISA will be embarking on programmes meant at sensitising the public about their rights.
One of the measures is this Democracy publication, which is a country report on the state of media freedom. This year, MISA together with the Swa-ziland Press Club will push the agenda of media freedom and freedom of expression through the public debates.
We also have a Media Complaints Commission (MCC) to hear and determine complaints about the violations of their constitutional rights by the print media.
---
COMMENTS:
- I have written in these very newspaper to caution the public that the gagging order was equal to what I referred to as a "palace coup". Nobody took me seriously until Prince Logcogco, who's one of the few sensible princes left apart from Prince Masitsela, called the problem by its real name - a coup, though peaceful. I mentioned that this gag order was treasonous in nature because an acting Head of State was denied the opportunity to broadcast her thoughts of wisdom to her people on a matter which could've burned down the country if left unattended. Again no one took notice. This is a serious matter, and if the politician responsible is not brought to book urgently, it will far-reaching implications on the universality of the powers of our traditional authorities in Swazi society. Not only that, it will finally prove that government is for a constitutional monarch which has no executive powers, as ably demonstrated by the issuance of a despicable gag order against the highest echelons of traditional authority. If this does not constitute a very serious crime of ignorance (if not commission), then I don't know what will. If formal investigations into the matter are not underway already, I'd say it's too late,,,
August 25, 2012, 12:23 pm, Keep Exhaling (keep@yahoo.com)
- I thank God that someone has had the gumption to finally call the mishap of a gag order for what it is. A coup. I was getting worried about the continued silence of the traditional authorities on this matter, as if they were unaware of how serious it is. Whoever gave the gag order usurped the powers of the king and he did this in broad daylight. If the nation is denied the opportunity to hear the voice of their head of state in the public airwaves, then whose voice are we supposed to hear? The gov't spokesman's? The PM's? Who exactly? A serious offence has been committed here and we would like the law to take its full course. As a Swazi nation we cannot allow people to deduct value from our traditional authorities, because it is these institutions that bind this country together. Gov't on the other hand has been known to divide us apart. I applaud Prince Logcogco for coming out in the manner he did. We count on him to pursue this matter to finality where we expect retribution.
August 25, 2012, 12:23 pm, Prayerful Swazi (prayer@ycom)
- All I can say to the good prince is Amen. Hallelujah! As a traditionalist myself, I must say I was offended when TV Mtetwa and the great institution he represents was treated like a proscribed entity. My offence then quickly turned into anger when I realized that no one important was willing to stand up and say something against this serious travesty of tradition. Bekunene whether you're a traditionalist or progressive, Christian or heathen, male or female, what has happened through the gag order kungumhlolo. Even if one is obsessed with unlimited power, it's unheard of that one can put a gag on royal statements. We have been complaining in futility about these secret directives for the past 4 years. Only that we din't know that one day they will go as far as to affect the very heart of Swazi society, which is Ludzidzini. It's cowardice of the worst order for someone to secretly issue UNWRITTEN directives and then hide behind the perforated veil of cabinet. Let's stop playing with fire.
August 25, 2012, 12:24 pm, Wretched Heart (with@yahoo.com)
- It's encouraging to note that we still have courageous men like the prince who calls a spade a spade and not garden implement. We need men like him to stand up as often as possible in defence of our revered monarchy. There are too many vultures out there and most them unfortunately enjoy the ear of our traditional authorities. The real enemy is not the progressives or anything like that. Thank Prince Logcogco for saying something valuable, not that it will help change anything though. The people you're talking to are hard-headed but very clever, but they lack wisdom.
August 25, 2012, 12:26 am, Mnikelo ka Hhohho (mn@web)
- Well this all tells us one thing.... that the powers that be, do understand the gravity and undesirability of gagging the press. Otherwise, the truth is that we the people must not be quick to jump and take sides on this issue, because there are political battles being fought behind the scenes within the regime, and this is merely a political score for one faction. All that both factions are interested in is who carries the most authority and influence on issues of national interest. None has the genuine interest of the people at stake, where 'the people' is defined as ''that that lies beyond their stomachs''. change will come to Swaziland, but it must be driven by the people, in a spirit of genuine goodwill those that are led and those that lead.
August 25, 2012, 12:26 pm, James Lokotfwako (james.lokotfwako@gmail.com)

: MPs assault allegations
Should an independent team be astablished to probe the MPs' assault in a cell allegations?