Why kill scarface?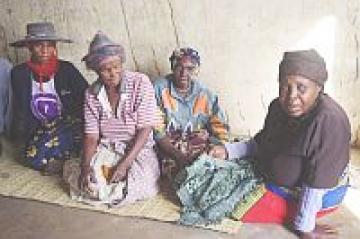 SIPHOFANENI - Victims of the late alleged serial rapist Bhekinkhosi 'Scarface' Masina reacted differently when the news broke that he had been shot by the police and died.
Masina was shot by the police on Thursday after being found in his hideout at Mpaka and was pronounced dead upon arrival at the Good Shepherd Hospital.
*Nonto, a 21-year-old woman who was allegedly abducted by Masina, said she was not happy that he had been killed.
Nonto said she would have been pleased to see Masina sentenced.
"As for me, I am not happy that he has been killed. I wanted to see him rot in jail so he could feel the pain he inflicted on his victims. To me death is too easy because he did not feel any pain," she said.
However *Thando, a 19-year-old girl of Sigcaweni who was allegedly raped by Masina, said she was pleased that he had been caught.
"When I heard the news I rejoiced since I was traumatised by the fact that he was alive.
"Everyday whenever I walked around the community, I feared that I might come across him and, now that he is dead, I am very happy," she said.
However Masina's family also feels he should have had a chance to appear in court.
Evalinah Masina, the deceased's aunt, believes that every person, including suspects, have the right to live.
Speaking inside the family mourning house, Evalinah said the police should be condemned for killing 'Scarface', who she says was innocent.
"I've noted that some people are rejoicing that 'Scarface' has died but I think this is wrong. The police should be condemned in every way for killing an innocent man. I believe that he was innocent because he was never taken to court where his alleged crimes could have been proven," she said.
Evalinah added that she would have loved to see Scarface in court so she could have heard how he would answer to the crimes he is alleged to have committed.
She added that she does not condone what 'Scarface' was accused of, but said everyone deserved fair justice.
She said she does not believe the police statement that 'Scarface' outpaced them, hence they shot him.
"As far as I know, the police have sniffer dogs and I am told those dogs were present on that day so my question is why didn't the police use the dogs to chase him?" she asked.
She added that since the news started spreading that Scarface was on the run, she had always wished to come across him so she could advise him on what is right and wrong.
She also noted that ever since Scarface came out of prison he did not get proper counselling since both his parents died.
Police justified the shooting of 'Scarface' as he was reportedly fleeing.*Not their real names.
Killing was not deliberate - police
SITEKI – Police Public Relations Officer Superintendent Wendy Hleta has called for calm in dealing with the issue of Bhekinkhosi 'Scarface' Masina's death.
Hleta reacting to news reports that the family questions why police shot and killed Masina, said what is key in this issue was the fact that this was not intentional.
"The police, whenever they are working, never go out to kill a suspect. They make sure that they apprehend the suspect so that he or she can answer to the allegations put before them. In this particular case 'Scarface' was asked to surrender several times even by me personally on radio. You are aware that he also had a radio. So we always maintained that we wanted him alive," she said.
She said even when looking at the injury you can see that there was no intention to kill him because he was shot in the leg.
"The fact that we sent an appeal does not imply that because he did not respond he should be killed. We still had hope he would be captured alive," she said,
On the issue of the family demanding answers she appealed for the Masina family to allow the police to finish their inquiry into how Masina was shot.
"It will become very expensive for them to keep travelling, yet they may also be called sometime for the post-morterm. I would appeal that they allow the police to continue with the processes," she said.
Hleta also clarified that they did not refuse the family a chance to see the body, but maintained that Masina had a right to dignity even in death and was only shown to the family for identification purposes. She said there was nothing the police were hiding because in the end the body would be with the Masina family so they must not be accused of refusing to show them his whole body.
She sent the police service's condolences to the Masinas and maintained that it was never their intention to kill him.
He may be forgiven - pastor
SIPHOFANENI - Despite Bhekinkhosi 'Scarface' Masina being alleged to have committed multiple rapes, Pastor Mbukeni Dlamini said he may be forgiven for his transgressions.
Dlamini is a senior pastor in the Ekutsembeni Christian church at Phuzumoya.
Pastor Dlamini, who was found preaching to mourners at the Masina homestead, said there was a huge probability that Masina would go to heaven despite being alleged to have committed very sinister crimes like rape.
"In His word, God says He made a person out of His own image. This means that God can have mercy on any person, regardless of the crimes that person commits. People should understand that Masina was never taken to court where his crimes were proven so it is wrong for people to judge him," said the pastor.
Pastor Dlamini added that, in the past, the Bible revealed that God forgave prostitutes and crooks, so there was no reason 'Scarface' would not be forgiven. The Pastor opened the book of Isaiah, 60:20, where he talked about God always being the light in times of darkness.
He told the family to put all their trust in God, who would in turn fight their battles.
Dlamini further condemned the police for killing Masina, saying he had the right to be brought before a court of law so his crimes could be proven.
Family to demand answers today
SIPHOFANENI - In pursuit of finding out what happened to their son, the family of the late Bhekinkhosi 'Scarface' Masina will today seek an audience with Lubombo Regional Commander, John Lukhele.
This was revealed by Welcome Mnisi, Masina's nephew.
Mnisi revealed that the family tried convening a meeting with the Siphofaneni police, but were advised to meet the Regional Commander to get clarity on their concerns.
"We tried meeting with the Siphofaneni police yesterday afternoon, but the police advised us to talk to the Regional Commander or Siteki Station Commander, hence the family has resolved to seek an audience with the Regional Commander (today)," Mnisi said.
He clarified that the family is not challenging Masina's death and that all they want is to find out the truth of how he died.
Mnisi added that the family did not make an appointment with the Regional Commander, but said he hoped the Commander would not turn them away since the matter was urgent.
When asked about funeral arrangements, Mnisi said the family had not yet decided on the day of the funeral since there were other problems in their hands.
'Scarface' was shot twice
MBABANE —Sus-pected serial rapist Bheki-nkhosi 'Scarface' Masina was shot twice, it has since emerged.
'Scarface' was gunned down by police officers under the Criminal Investigation Department who had been camping in forests for four months.
Masina was shot at Mpaka on Thursday afternoon after being on the run for almost eight months. The suspect was shot in his lower body as he tried to flee from the advancing police.
Information gathered from the Royal Swaziland Police website is to the effect that Masina was shot twice in his right knee.
Masina collapsed about 500 metres from his hideout.
He was certified dead upon arrival at Good Shepherd Hospital in Siteki.
---
Comments
Vele bencondze kumbulala adutjulwe kabili pho? Besenidzinwe ngulokuhlala lehlatsini, senikwate nifile maphoyisa ekubulala, sentitjele kutsi lanimbona khona vele uyenyuswa. Akusiti lutfo kutivikela lendzaba isebaleni. Maye bengfisa kulalela licala la Scarface weludvumo, phoke emaphoyisa alile.
Jun 18, 2012, 5:52 AM, A.Lamahoza (hoz@gmail)
I'm just wondering why is it that the Masina family is like they are more concerned now about Scarface, so my question is have they ever gone to the media and ask him to come back home, because I strongly believe that was going to be a sign that they were realy concerned or caring about him. I'm not saying to kill is right, but its just a question about the family members.
Jun 18, 2012, 5:52 AM, Zitha (Zithanto@gmail.com)
The police did good by killing Scarface. He was running away again. The cops have appealed to him on numerous times to hand himself over and he did not. Ufele emsebentini wakhe, he brought this to himself. Well done cops, shoot to kill.
Jun 18, 2012, 5:52 AM, Happy
Good riddance.....mine I was scared whenever ngibona umuntfu lone scar on the face, thinking maybe nguye lo!
Jun 18, 2012, 5:52 PM, Bongi (thabileshabane@hotmail.com)
A criminal is a human,no one has the right to kill a human...for me l would love to know if scarface outpaced the police and even outpaced the (trained) dogs such dat the only option was to shoot??...killings by the police has become like every morning tea in the winter season.,plz SWAZILAND let us nt rejoice by the death of a human...criminal or not,,,l repeat no one has the right to kill
Jun 18, 2012, 5:52 PM, zamani (ankeltsonag@rocketmail.com)
Why do ppl care how ds man died? Usikhatsatile lomuntfu lo. Moreover the police shot his lower body it shows they were not meaning to kill him. At least we know where he is now than living in fear as we were.
Jun 18, 2012, 5:52 PM, tm (marciat@hotmail.com)
Let the truth be told! Rumours from the morgue are that he has 3 wounds. Kwacale kwatsiwa it's 1 wound now it's 2. Kantsi akadutjulwanga yini maphoyisa aphele kushintjashitja? Stop feeding us with lies! You murdered instead of apprehending him for justice. Kukhulu lokushaya emanti kulendzaba.
Jun 18, 2012, 5:52 PM, Lord Anthony (anthonym198@gmail.com)
Well done mapoyisa for killing Scarface, if you were given an opportunity to kill David Simelane; I believe ngabe you did it. How much tax payer money has been spent on David so far, millions and millions I believe. Scarface naye has cost the nation, khumbula the number of forces (emapoyisa, bosojele, emasotja netija) bonkhe bafunana naye. How much was sent just for his search. Lala nguthula Scarface. Well done maphoyisa, people like these are not needed among us.
Jun 18, 2012, 5:52 PM, BeePee Goje (beepeeg@yahoo.com)
The Masina family must cut us some slack, they were quiet all along towards the raped victims. Some of the victims are dead already ngoba bekubantfwa betilwane? Asebasicolele. I hope abakayengwa ngulama progressives with their ulterior motives.S'coleleni
Jun 18, 2012, 5:52 PM, Jabu (januliousmaloyi@gmail.com)
Yebekunene benifuna lo Scarface atohambe atjela bobhululu bakhe kutsi usi starring uya reper nje abaleke for 9months angabanjwa? If he raped ur daughter bongeke utsi akafe? Now i knw why people act so stupid because dey are lay people dey dnt knw wht da law requires if u all studied law ngabe niyati lomuntfu bekatawugwetjwa aphindze aphume and ente da very same thing..cz akanandzaba..logogo labatsi wamu raper and wamdzabula ngemukhwa after akhandze lentfo iyincane wht was dat 4 and dat granny died...wht i can say u all stupid nxa
Jun 18, 2012, 5:52 PM, sabelo (sabelo@yahoo.com)
If it is true that he was shot in the leg I think taking him to the hospital was delayed either deliberately or circumstantially so. Delaying ferrying him to hospital is animalistic, the predator watches the victim bleeding to death. If there was any justice, an independent body was going to investigate and tell us the truth. I strongly believe that if urgency was applied to this matter the alleged rapist would have survived the shots. QUESTION...When was the photo that appeared in the newspaper taken? To me it looks like the man was already dead thus my belief that there was no urgency in this matter. Was it proper to display the corpse for a photo shoot? Correct me if I am wrong.
Jun 18, 2012, 5:52 PM, Bonga Ground (bongaground@gmail.com)
I don't see them underneath of the story? Ok It is true that police have shot the rapist and angeke sikubalekele loko nabani nabani can do it, after 8 months looking for one man out of more than 600 RSPs in the forests. It was their chance when they saw Him to shoot for a kill, they were very upset,angry and tired of spending night shifts in the bush for one man,just imagine that feeling. Anyway akwehlanga lolungehlanga BoMasina. Pastor Dlamini stop lying just preach the word of God,Only God thru His word can heal the Masina souls not yu njengobe sewukhuluma ngemaphoyisa lapho stop it wena you are the pastor just do your work please.
Jun 18, 2012, 5:52 PM, Mgabhi SM (malcolm@saymail.co.za)