Sikhanyiso for MTN board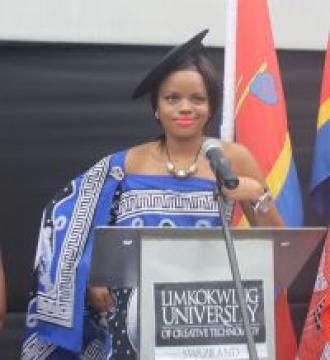 MBABANE – Her Royal Highness Inkhosatana Sikhanyiso, who, on May 4, 2012, graduated with a Master's degree in Digital Communications and Culture, has been nominated for a position in the Swazi MTN Board as a member.
Apart from holding a Master's degree, Princess Sikhanyiso also previously studied drama at the Biola University in Los Angeles, USA.
If the nomination is finally approved by the MTN Board, this would be Princess Sikhanyiso's first major assignment since graduation from Australia's Sydney University.
At Swazi MTN, Princess Sikhanyiso, who is His Majesty King Mswati III's eldest daughter, has been nominated to represent the interests of the esteemed shareholder.
Swazi MTN shareholders include the Swaziland Posts and Telecommunications Corporation which holds a majority 41 percent stake, MTN International has 30 per cent, Swazi Empowerment Limited has 19 per cent and the 'Esteemed Shareholder' has a 10 per cent stake.
All along the Esteemed Shareholder's interests were looked after by Senator Winnie Magagula who is now Minister of Information Communications and Technology.
Since Magagula's appointment as ICT Minister last year, there have been questions on whether she had relinquished her Swazi MTN Board membership status or not.
Some Members of Parliament believed that she was still part of the Board and they expressed concern at the conflict of interest if, indeed, she was still a member.
Swazi MTN Board Chairman, David Dlamini, confirmed that nominations had been made by various shareholders but nothing had been formalised yet.
"It is true that we have received letters from some shareholders as per our agreement with them. We, however, cannot comment on the names of the people that have been nominated until we have a Board meeting where these letters are to be tabled. This has not happened yet so it is impossible for us to comment. Our hands are tied," the chairman said.
Dlamini said the next Board meeting was expected to be in August with the last one having taken place on the last week on May.
He said when the last meeting took place the Board had not yet received the shareholders' letters.
Comment from the ICT Minister could also not be obtained as her mobile phone was either switched off or out of MTN coverage area, with the last call made at 5:40pm.
In the traditional circles, Princess Sikhanyiso is leader of the Imbali regiment, which is a brigade of young girls who are still unblemished and participate at the annual Umhlanga Reed Dance Ceremony.
It's nothing out of the ordinary - DPM
MBABANE – Deputy Prime Minister Themba Masuku said there was nothing unusual if Princess Sikhanyiso hadbeen nominated into the Swazi MTN Board.
Masuku said even though he had not heard anything pertaining to the nomination, such would be a good move by the Swazi MTN shareholders.
"As a citizen of the country, she has a right to be nominated anywhere. Although I have not heard about it, but if it has happened then it is good for the youth. People are trained at youth level not to wait for them to grow old before being appointed into Boards," the DPM said.
He said Princess Sikhanyiso's nomination would help build the country especially because she has graduated in a communications-related field and also because individuals like her were the future generation.
"There is nothing abnormal. If the private sector takes the lead in appointing the youth then that is good. If this is true then it has my approval," Masuku added.
---
Comments
This is shame, seriously! Apart from being a princess, master's without experience does not qualify her for the job. If she wasn't a princess, would she have been nominated? No! This is just nepotism. Hope she is not going to be appointed, MTN is a big company and needs experienced people. Next we'll be told she's a lecturer at Limkokwing. Cry the beloved country!!!
Jun 4, 2012, 6:17 AM, Lord Anthony (anthonym198@gmail.com)
Uveni??? it can only happen eSwatini!!! very interesting, infact we saw it coming from the far end. Phela Ndvunankhulu's days are now numbered eHosp-Hill hence there must be someone most trusted to overlook certain interests.... On a lighter note - this is the best shot by bakaNgwane to fast track the calls for new governance.
Jun 4, 2012, 6:17 AM, Lucky (lman@yahoo.com)
We are hoping for the best maybe she will bring positive innovations in the MTN company. Like lower call rates and other benefits which go hand in hand with airtime internet bundles etc.
Jun 4, 2012, 6:17 AM, nothando (nothando32@yahoo.com)
Gwagwagwagwagwagwagwa Joke of the century right??? I laugh out load indeed!!! Ngabe siyaphi nanali live nali, engivela bantfwabetfu nje labanganokhandza lutfo, we are destroying it slowly but surely. How about a job as a Graduate Trainee Princess Sikhanyiso, wouldn't that be a good start really?
Jun 4, 2012, 6:17 AM, Ntokoziso
I think an actual JOB would have been a better start so she could gain some experience...and a little humility. Putting her on the board will only persuade her that she actually has something to contribute at that level. Which she doesn't. As a previous commentor said, a master's degree doesn't qualify anyone for such a position. How are others on the board with age and experience going to feel? And how will they knock her back when she makes immature suggestions. Eish!!
Jun 4, 2012, 11:17 AM, Hlophe (hlophe@yahoo.com)
If you thought things could not get any worse then boom another bombshell when will all this end.
Jun 4, 2012, 11:17 AM, dman (thembix2@hotmail.com)
Maye sihle lesitfombe! ngiphela khona lapho.
Jun 4, 2012, 11:17 AM, wamkelwe vilakati (wamkelwev@gmail.com)
This is just unfair, how can an unexperienced somebody occupy such a big position like this one. MTN will continue having high tariffs and problems as long as nepotism is there, nothing good will ever happen. Shame on Swaziland, thank God i`m no longer a citizen of that country!
Jun 4, 2012, 11:17 AM, wakhe (wakhephu@gmail.com)
Mxm!! Idla egameni kela.
Jun 4, 2012, 11:17 AM, bantwabahle (bantwabahle@yahoo.com)
Please guys, say you are joking. Some people are lucky.
Jun 4, 2012, 1:17 PM, Jimmy (jimmy_gusheshe@post.com)
Why doesn't my beloved princess try modelling because it needs no experience but what I see on the picture! From under educated minsters to high post for in-experienced princess thats my country. Dear Swaziland can't you see its down please wake up.
Jun 4, 2012, 1:17 PM, Mduduzi G. Dlamini (mdk215@yahoo.com)
This is hilarous! Like really? And how sure are we that waphasa??? It all gets more ridiculous by the day I tell you...
Jun 4, 2012, 1:17 PM, B
Yimihlolo yetfu impela.............ungaze ubute impela kutsi waphasa yini............lokwenteka eveni letfu.....kona liseletfu yini vele?mxm
Jun 4, 2012, 1:17 PM, nl
Dlani kwakini vele. Singatsini n nasibobani.
Jun 4, 2012, 3:00 PM, Sagila Sigodvo (sagilasigodvo@yahoo.com)
Impela .....impela...... ingabe siyaphi nalelive leli. Emaphoyiseni ngiyo Inkhosatane kanjalo naka MTN, KOPHA NGETSEMBE KUTSI AKUSILO LICINISO. Awu lafa laMbandzeni.
Jun 4, 2012, 3:00 PM, A B Msimango (msimango@yahoo.com)
Perks of being a head of state daughter.. we all know you dont deserve it labantfwa baba NO ONE who maybe are qualified bahleti emakhaya.. enjoy it while it last... SIYAKUBONGELA...
Jun 4, 2012, 3:00 PM, andile (andilesibandze@yahoo.com)
I'm lost for words, but I saw it coming. I always tell my collegues that mine i'm not a proud Swazi and would leave this country anytime soon to seek asylum eGermany or Canada ngoba this country is going nowhere as long as we embrace nepotism.
Jun 4, 2012, 3:46 PM, lanconco (basil@gmail.com)
Can Senator Winnie Magagula tell us why she appointed the Princess because I'm told she is the one who appointed her. Not that I envy her job, but she has the duty to advise His Majesty. She knows how difficult it is to sit in Boards especially of a company listed in the stock exchange. Senator, you have done your job but please it's not too late to go and advise his Majesty, he banks on you to take this industry to the first world, but appointing the princess is a grave mistake. She just needs working experience ! But I'm happy that she will learn to work and earn her money. Minister please assist us, you are too smart and you know a lot and better than most of us in this industry! Siyetsemba Ndvuna .
Jun 4, 2012, 3:46 PM, Sandile Nkosi (sandienk@yahoo.com)
Oh!!! rily...nice move mbamba phela safa ngunaba bantfu who claim to bring change lengekho....thatha princess thatha!!!!!!!!!
Jun 4, 2012, 4:43 PM, maranger (Maranger@binu.com)
In view of the drug shortages in public hospitals, do you think it is the Ministry of Health's budgeting or corruption that is adding fuel to the crisis?