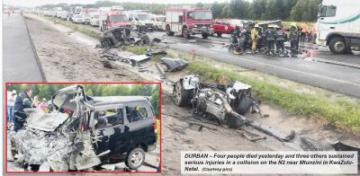 - eNCAJOHANNESBURG – Four people died yesterday and three others sustained serious injuries in a collision on the N2 near Mtunzini in KwaZulu-Natal. It was gathered
MBABANE – Former head teacher of Mhlatane High School Simeon Makhubu has been rearrested. Shobane, as Makhubu is popularly known, was arrested by members of the
...
MBABANE – Lobbying for the Senate President seat has started among the newly appointed senators. A day after the appointed senators were announced to the public
...
MBABANE – Is stabbing a woman 17 times in front of her mother a way to show your love for her? Thandeka Masuku (21) survived to
...
Do you believe it's discriminatory to other children to write and sign a will?