GOVT LOOKING FOR AIRCRAFT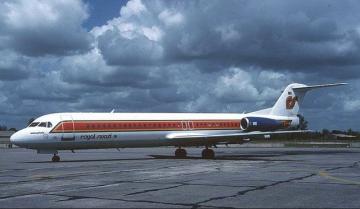 MBABANE – With close to E3 billion spent on the construction of the new Sikhuphe International Airport, government is now looking for a new aircraft to service the country's own proposed airline.

The wanted aeroplane is a 90- to 100-seater jet that will cost around E700 million.
Solomon Dube, Director of the Swaziland Civil Aviation Authority (SWACAA) confirmed this.
He said the rationale behind the proposed airline was that each time they went abroad to market the new airport, reputable airlines demanded that the country should have a national airline which would ferry, on-transit passengers.

He said the big airliners agreed 'in principle' to bring passengers to Swaziland but wanted to know if these passengers would not be stuck in the country. "They all demand that we have a national airline that will transport the many passengers they would be transporting from all over the world to Southern Africa," he said.
"They want us to distribute passengers from Europe to Sikhuphe Airport if they are travelling to places like Zimbabwe and Botswana for example," he said.
"They tell us that they do not want their important passengers to be stranded in a Third World country and, therefore, if we want them to use our airport, we should also have a national airline which they would work with."

Dube said there were two options on the table on this subject: to lease an aircraft or purchase one outright.
"An aircraft is not only important for the coun-try's aviation industry generally, but it is also a symbol of national importance especially when the country moves to the First World," he said.
Dube said a new airline was a necessity that should be fulfilled immediately by the next government.
He said Swaziland, by constructing the airport, fulfilled the hard part of being a player in the aviation industry and now, the country should purchase an airline and be part of the bigger world.

Dube said the airline would not be idle as there were various routes it could service. These are routes that used to be operated by the defunct Royal Swazi Airways airline which had an airline known as Lijubantsendzele.
He identified these as South Africa, where it could ferry passengers from Swaziland to Durban, Johannesburg or Cape Town. He said there were also a number of destinations available in Africa which include Ethiopia, Kenya, Malawi and Tanzania among others.

According to Dube, the country has already signed bilateral agreements with these countries.
Cyril Kunene, Principal Secretary (PS) in the Ministry of Public Works and Transport, also confirmed that government was in the process of acquiring an aircraft. Kunene sits on the RSNAC Board.

He said the process was at the stage of evaluating the feasibility of either owning or leasing the aircraft. The PS said the airline would be based at the new Sikhuphe International Airport.
He said the task of sourcing the aircraft was placed in the hands of the Board of Directors of the recently revived Royal Swazi National Airways Corporation (RSNAC).

Among other things, the Board will evaluate the feasibility of the country owning and operating an airline versus leasing one.
Kunene also said the Board was also tasked with reviving the defunct RSNAC and the airline, Royal Swazi which was also known as Lijubantsendzele.
RSNAC is a government parastatal which used to be headed by former Chief Executive Officer (CEO) Charles Jele who left the organisation under a cloud of controversy. The parastatal is presently without a CEO.

Among other duties, it used to operate the country's defunct airline, Royal Swazi Airways, which went under in 2001. The airline operated two aircrafts; the Fokker 100 and Fokker 28.
These aeroplanes were sold under a cloud of controversy by government, where at some point, two officers from a foreign company were stopped from removing parts from one of them.

About 12 years later, government feels that it is in a position to operate an airline again because, according to Dube, the conditions have changed and the market is ripe and ready for a fresh airline in the region.
Taking flight by April 2014
MBABANE - Solomon Dube says if things go according to plan, the commercial jet could be acquired at anytime from the next financial year, which begins in April 2014.

According to investigations by this newspaper, airplanes with the specifications mentioned by Dube include the Airbus A318, which accommodates 107 passengers in a typical two-class cabin configuration.

There is also the Boeing 737 Next Generation, commonly abbreviated as Boeing 737NG, which takes between 110 and 210 passengers.
Canadian plane maker Bombardier's new CS 100 single-aisle jet also fits in this category of aircrafts that are under consideration. The Bombardier CS 100 and CS 300 range between 110 and 160 seats depending on the configuration.

Government could also choose to purchase an Embraer E-Jet E-190 and 195 which is a series of narrow-body medium-range twin-engine jet airliners produced by Brazilian aerospace conglomerate Embraer. The E-190 and 195 make up nearly half of the global in-service passenger fleet of 1 227 in the 90 to 110 seat Western-built aircraft.

Meanwhile, Dube said a national airline was imperative not only to boost Swaziland's status in the rest of the world as a national symbol but also to facilitate interconnection flights for passengers who would be flown in by other international airlines.
What about Swaziland Airlink?
MBABANE - The agreement that exists between government and Swaziland Airlink will not be affected by the country's purchase of a new airline.

This, according to Solomon Dube, is because the new airline will not use the route that is presently operated by Airlink. Dube said the new airline could fly passengers to other destinations and not Johannesburg which is serviced by Airlink. He said these may include other parts of South Africa as well others in Africa and Europe.

Dube said the Swaziland business case of the airline industry was viable in that, agreements would be signed between governments.
"People who fly into Southern Africa are forced to land in Johannesburg yet they should be able to travel directly to other destinations in the region. Therefore our airline would provide that alternative," he said.
: MPs assault allegations
Should an independent team be astablished to probe the MPs' assault in a cell allegations?