EPICENTRE MANZINI UNDER LOCKDOWN - GOVT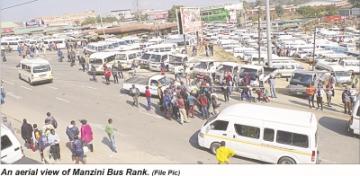 MBABANE – Government has announced a lockdown in Manzini. This was revealed by the National Commissioner of Police William Tsintsibala Dlamini at Cabinet Offices yesterday.

Dlamini stated that they would mount roadblocks in many parts of the hub where they would scrutinise the movement of people going in and out of the region.
This comes after Minister of Health Lizzie Nkosi stated that judging from the current trends, Manzini was the epicentre of the virus.
Of the 59 positive cases confirmed in the country, Manzini has the highest, at 38.

The national commissioner of police advised that people who would travel around and to Manzini would be turned back if they did not have a valid reason for their travel.

It was stated that it was only people with permits who would be allowed through the city.
He also said the three security forces of the country, which are the Royal Eswatini Police Service (REPS), The Umbutfo Eswatini Defence Force (UEDF) and His Majesty's Correctional Service (HMCS) would conduct the operation jointly.

Dlamini further mentioned that they would do the same in other regions, cities and towns, however, for now they were paying particular attention to Manzini as it had proved to be the epicentre of the pandemic.
"If your reason of travelling is not valid, you will be requested to turn back," he reiterated.

He said people who would be found moving about for no particular reason would be charged for loitering.
It was stated that the police would act jointly with the Ministry of Health in screening people as they (police) were going to use thermometers and should a person be found to have a high temperature, health practitioners would be called to put that individual in isolation.

In fact, Dlamini said all three forces would be visible in all parts of the country and would be strict on people's movement.
He clarified that they, as forces, would monitor adherence to the newly-amended regulations and guidelines that were put forth by the Ministries of Health, Public Works and Transport and Commerce, Industry and Trade.

He said they would visit businesses, as they heard that some were not complying, to see if they were following the guidelines.
The same will apply for public transport as the security personnel would be moving around to ensure compliance.
Dlamini stated that businesses which had their permits revoked were supposed to remain closed until further communication from the relevant ministry.