GOVT ISSUES STRICT TRAVELLING RULES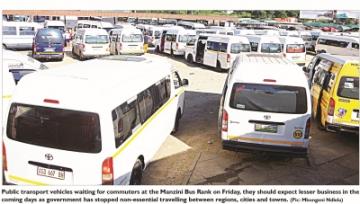 MBABANE – From tomorrow, travelling from place to place will be tougher. People who want to travel between cities, towns and regions will now need to be in possession of a letter to be able to do so.

If their travelling is for medical purposes or buying of food, the letter should be obtained from bucopho (constituency councillor) or anyone authorised by the regional administrator.

Should the travelling be work-related, then the letter has to come from their employer.
This is according to the new procedures to regulate the operation of public transport in the period of the strengthened partial lockdown, following Thursday's decision by government to remove the relaxed partial lockdown.

The official authorised by the regional administrator, as per the procedures, is expected to register all those who want to travel to another city, town or region and contact the regional secretary to arrange transport for the registered citizens.

illnesses

"The requested transport should state departure point and destination point and intermediary stations where the vehicle shall traverse," states the guidelines.
It is required that the letter granted by the authorised official shall always (at all times) be in the possession of the person who is travelling.

The new regulations were confirmed by Sihlangu Nhlabatsi, the Chairman of the National Road Transportation Council, who said this would not only apply to people boarding public transport but also people using their private transport.

He said Prime Minister Ambrose Mandvulo Dlamini clearly stated that people should go to town only if it's necessary to do so, which is for medical reasons and for food.

"We are not saying people should disclose their illnesses but they should state that they are going to hospital in a particular town and this information will have to be provided to police who will be manning the roads. But the travellers will be questioned on the reasons they are going to a hospital in another town instead of the one in their town. We are aware that there are some people who will tell lies just to travel," he said.

For those buying food, Nhlabatsi said they would have to do so in their closest towns and will need a letter if they will be going to shop in another town.
"For instance, you will not need a letter to travel from Mahlanya to Malkerns for shopping.
The PM said you cannot travel from region to region or city to city, which means you can travel from Ezulwini to Mbabane but not from Ezulwini to Manzini or from Mbabane to Manzini if it's not essential. Those from northern Hhohho have Pigg's Peak as their town and cannot come to Mbabane for shopping," he clarified
He reiterated the need for a valid reason, such as bereavement, for one to be able to travel between regions, cities, and towns.
He emphasised that the regulations were in no way saying people needed permission letters to exit their home but only when travelling outside of their hometowns or regions.
Government has also reintroduced the compulsory wearing of face masks by all passengers aboard a public transport vehicle.
According to the new guidelines, "all private citizens are advised to bring masks when boarding public transport and that masks are compulsory when boarding public transport."
When this requirement was first introduced by the Ministry of Public Works and Transport last week, commuters were seen borrowing masks from those who had just used them so that they could also be allowed to board either a kombi or a bus to their destinations.
Most commuters did not have the face masks and government did not state how these would be made readily available.
This then forced the Minister of Health, Lizzie Nkosi, to issue a statement the following day
(Friday) withdrawing the compulsory requirement. Nkosi said they acknowledged that the country did not have enough masks in the market at the time hence passengers, in the interim, would be allowed to use public transport without wearing the face masks.
Yesterday, South Africa's Cooperative Governance Minister Nkosazana Dlamini-Zuma, during a press conference, said she had received a text message from someone in Eswatini, who told her that passengers were borrowing each other the masks.

precautionary measures
She said the message said the public transport conductors were telling alighting commuters to leave the masks behind for others to use.
This claim has not been proven.
But with the new regulations, the burden is not only on the commuters to wear the face masks but also on the owners of the vehicles, who are now expected to have them readily available to their passengers.
The guidelines read: "All passenger service vehicles must always have masks in their vehicles in order to assist those who might not have masks at a reasonable prescribed fee."
Nhlabatsi said public transport vehicles would be at bus ranks as usual but would have to observe all the precautionary measures such as social distancing (70 per cent carrying capacity) and sanitising of the vehicles.
"There will be masks that will be sold to those passengers who don't have them and to avoid commuters borrowing the masks to each other," he affirmed. Those employed in companies, institutions and organisations that fall under the category of essential services, there are also guidelines for them as to how they are to be transported to and from work.
These employees will be transported to and from work through and pay normal bus fare but the transport will be specially arranged after being applied for by their employers.
First of all, their entities have to apply to the Ministry of Commerce, Industry and Trade to operate as an essential service provider.
Upon obtaining the permission to operate, these entities have to submit a copy of the permission to the COVID-19 Logistics and Transport Technical Working Group. Together with the permission to trade, the entities have to provide other information that includes the number of their employees requiring transport services. Also, they have to state the geographical span of where the employees may be picked up and this has to be in terms of road names; for example, MR3 (Mafutseni-Manzini).
Further, there should be a letter detailing all employees expected at work and the date; and all employees are expected to issue all employees with copies of letters as proof of commuting to work. The employees will moreover be expected to provide the working hours expected of the employees so as to facilitate timely arrival at work and pick up after work.
The COVID-19 Logistics and Transport Technical Working Group shall then liaise with the National Road Transport Council to find an operator to provide the requested service for these entities granted permission to operate as essential services.
"The service will be offered at the most possible way to be in line with the request from the essential services providers," states the guidelines.
It is further stated: "Essential business and essential government officials shall ensure that all their persons who require transportation must have with them a form of official identification, preferably national identity and must also have compulsory masks and also use own sanitiser prior to boarding."

regulations
It is also provided that the payment of fare will be governed by bus fares regulations and payable on board or as arranged with the employers.
Nhlabatsi said companies that had their own vehicles to transport staff had to apply for permits if those vehicles carry more than nine employees at a time but don't need to do so if its less than that.
The Times SUNDAY understands that a meeting that dragged for the whole of yesterday afternoon was held between the Minister of Public Works and Transport Chief Ndlaluhlaza Ndwandwe, the National Road Transportation Council and public transport operators to discuss the new guidelines.
The operators reportedly expressed a few concerns regarding the new measures and have asked for them to be reviewed, but only partly.
"We are not happy but there is nothing we can do. We have asked them to loosen up some of the guidelines and they have promised to go and consult to see what could be done," said one of the operators who is influential in the industry.
He said their main concern was that the situation now seemed to be full lockdown yet they knew it be a partial one.
He said the fact that they all needed to apply for permits to be able to operate and also be dictated to when to go and pick up passengers as well as making it compulsory for commuters to wear masks showed elements of a total lockdown.
"Yes, the measures will help to contain the spread but still people should travel," he said and asked not to say anything more lest he be in trouble.
Efforts to get comment from the minister were unsuccessful as his mobile phone rang unanswered when called.
Is it wrong to change a woman's surname to that of her husband without her consent?