KING DELIVERS SHORTEST SPEECH EVER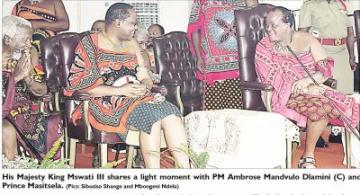 mbongeni@times.co.sz

HLANE – Could this have been His Majesty the King's shortest speech ever?

Yesterday, during the Buganu Ceremony at Hlane Royal Residence, His Majesty spoke for barely three minutes when addressing members of the Lutsango regiment who came to attend this event that is now an international feature and tourist attraction.

The king took to the podium at 7:45pm and spoke for three minutes before closing the second leg of the Buganu Ceremony – the first having been a fortnight ago at Buhleni Royal Residence.

The king said the fact that it was raining meant the heavens blessed both ceremonies hence the country should be grateful.
The King reminded attendees that during the last ceremony held at Buhleni, rains forced everyone to quickly abandon the event as they sought shelter.
"Let me applaud lutsango for the effort you have made to attend the event without fail.

"Again, the fact that you have withstood the rain is an indication that you are now warriors.
"We thank you for attending and we believe that you have also used the day to showcase other products that are made from the marula tree. We hope everyone will continue to enjoy the rest of the day as we are about to enjoy," the King said.

Meanwhile, the Indlovukazi encouraged emaSwati to consider producing commercial products from the fruit. "Asitsisisidla lesihlahla sibe sisisebentisa," she said, meaning let us also use the marula tree to develop ourselves by producing other commercial products.

She said from the fruit one could produce cosmetics including soap, body lotions, cooking oil and jam.
The Indlovukazi stated that figures of the people attending the ceremony were increasing yearly.
This, she said, pleased Their Majesties.
: Informal crossing points
Is government doing enough to stop people from using informal crossing points?