GOVT SPOKESPERSON PERCY GOES HOME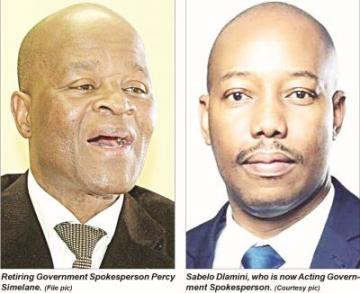 MBABANE - It's the end of an era for the spin doctor! After having exercised the responsibility of being government's mouthpiece for many years, Percy Simelane's term of office has come to an end.

Simelane, the man who most unionists loved to hate, has had his contract not renewed by government.
The basis of the non-renewal of his contract is that he has reached the retirement age of 60 years.
Information gathered by this publication is that Simelane was officially made aware of the latest developments through a letter which was handed to him yesterday morning.

Widely referred to as 'Gogo' by radio lovers, Simelane was the main man at the Government Press Office, whose objectives are to co-ordinate government communication, ensure dissemination of public information and clarification of government policies and programmes through the use of local and international media, disseminate accurate and updated government information using all available communication tools and ensure a balanced relationship with the media.

Referred

When the Principal Secretary in the Prime Minister's Office, Victor Nxumalo, was called regarding the latest developments he referred this reporter to the Civil Service Commission (CSC).
Acting CSC Executive Secretary, Amos Ngwenya confirmed the news to this publication.

"Yes, I can confirm that Simelane's contract has not been renewed. This is because he has reached the retirement age," Ngwenya said.
The charismatic Simelane will be remembered for his proactiveness when it came to responding to issues touching on the country, especially criticism levelled against the kingdom by international media.

In many instances, he found himself in the bad books of unions and political parties due to the way he responded whenever there were burning issues in the country and he had to clarify certain things.

In 2016, former Prime Minister Sibusiso Barnabas Dlamini had to defend him in Parliament after some MPs cautioned him to tone down and be more diplomatic in his responses when dealing with international development partners and friends of the kingdom, lest the country would lose them.

Command

Having worked on radio before, Simelane's good command of the Queen's Language was loved by many with some describing him as not just a spin doctor but an encyclopaedia of knowledge.
With his long stint on both radio and in Cabinet, one can safely say that Simelane has spent most of his career as a civil servant.

In October 2008, he was appointed as the director of the country's only national radio station - the Eswatini Broadcasting and Information Services (EBIS).
At the time of his appointment as EBIS director, he was holding the same position of government spokesperson and he replaced his one-time boss, Stan Motsa at EBIS, who had been transferred to the then Ministry of Tourism, Environment and Communications.

Previous to being made government press secretary in 2004, a post he was seconded to by former Prime Minister Themba Dlamini, Simelane had worked for the radio station for 19 years.
Simelane had joined the station as Assistant Information Officer before being made Information Officer.

He then became the station's Senior Information Officer, the last post he held prior to being a government mouthpiece, and subsequently the station's Editor. Simelane is known for his versatile voice, which earned him many roles in the radio station's drama plays, where he mimicked a lot of creatures, including ghosts.
: Informal crossing points
Is government doing enough to stop people from using informal crossing points?