CHINA BAN: ESWATINI COMPANY LOSES E70M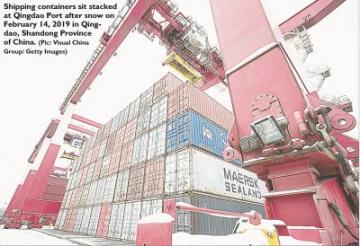 MBABANE – Massive loss! Due to the reported ban on China's exports to Eswatini, one local company's E70 million worth of containers are stuck in that country as manufacturers there are reluctant to release them to him.

Investigations by this newspaper revealed that the government of the People's Republic of China (PRC) might have influenced Chinese businesses to stop trade with emaSwati or companies from Eswatini until further notice.

In fact, the Times SUNDAY has seen the notice issued by Beijing on visa applications by emaSwati.
It is titled 'notice of new visa application procedure of Swaziland (Eswatini) citizen to Mainland China.'

It reads: "According to the latest notification of the Chinese government, starting from January 10, 2020, visa applications of Swaziland citizens to Mainland China will be processed by the Chinese Embassy in South Africa. At the same time, the Chinese Visa Application Service Centre and other Chinese Diplomatic Missions will not accept the applications anymore."

Approval

It could not be ascertained if another notice was issued to Chinese businesses to stop trading with emaSwati. Sources said it was possible that China told its businesses to seek approval to trade with emaSwati. Some orders placed with Chinese businesses after January 10, 2020 were either rejected or accepted with strings attached, with delivery of the containers being blocked at China's ports.

In 2018, the Wall Street Journal and other publications reported that Ford cars and California fruits were among goods piling up at Chinese ports, the result of increased inspections that business groups felt was China's way of reminding the US of how important its market was to American exporters.

Navel oranges, lemons and cherries from California in USA, along with American apples, have been sitting at Chinese wharves for longer than normal as Chinese inspectors spent more time inspecting the fruits for pests and decays, U.S. trade groups said at that time.

frustrated

Back to the frustrated local businessman, he was almost in tears yesterday afternoon when he was called by this newspaper to shed some light on the matter. He vehemently declined to do so on the grounds that he wanted to recover well enough to talk to the media.
"Can I be given a week to recover from what has befallen me," he pleaded.

He asked that his name and that of his company be not mentioned as he was trying to negotiate for the release of his goods.
His company supplies pharmaceuticals to government. As the year begins, the company had hoped to keep adequate medicinal drugs so that they were not out of stock.

The Times SUNDAY can mention that there were concerted political efforts outside government to ask the government of the People's Republic of China in Beijing to treat his case as an isolated one – in a bid to release the containers to Eswatini.

confirm

Dr. Vusi Magagula, the Director of Medical Services in the Ministry of Health, could only confirm that some of their suppliers bought the drugs from the People's Republic of China.

He said their suppliers did not, however, buy ARVs from that country. He added that they also bought bandages from Mainland China. Due to the sensitivity of the matter, Dr. Magagula did not give details on the nature of their suppliers' trade relations with that country's manufacturers and wholesalers.

Lucky Ngubane, who was given a one-year VISA for entry into China, was in a dilemma when he was telephoned on Friday. Ngubane said he had sleepless nights when he heard of the ban.

The businessman pointed out that some of his colleagues told him that the Embassy of the People's Republic of China in Pretoria did not help them when they went there to apply for the VISAs.

expires

"I don't know what to do now, I can go there because the VISA expires in October 2020 but what if I go there and they turn me away? I am just confused," he said.
A third businessman who was expected to leave for China on February 3, 2020 said he lost about E7 000 through an order that he made online.
He said he bought a few goods online. He disclosed that his supplier in Mainland China was refusing to release the goods to him.

"I can say I'm fortunate because I lost E7 000 and I can buy the material in South Africa. My friends, one of them could lose E70 million of stock and we have to pray for him as he is confused, he doesn't know what to do," said the businessman who said his clients put it in a policy that he should not speak to the media on any matter without their approval.

urgently

Lobamba Lomdzala MP Marwick Khumalo urged government to attend to this matter urgently. He said Mainland China was the second largest trade partner after South Africa, and Eswatini needed that country most.

He urged the office of the prime minister to issue statements on this matter from an informed position. Khumalo explained that emaSwati were not being elevated to get visa services from the Pretoria Embassy of the People's Republic of China to South Africa.

He said it meant there was a problem at hand that should be attended to as a matter of urgency. The veteran MP mentioned that the notice on the changes on the visa applications was not issued by the embassy but Beijing.

He said it was a pity certain people rubbished the proposed trade relations between Eswatini and China, and were quiet and not offering a solution now.
"It's not necessary to say 'we told you so.' However, we have a problem at hand that is beyond government's control. Our economy is at stake," said MP Khumalo.

trade

"We wouldn't be where we are if we did establish the trade relations with Mainland China."
MP Sibusiso Scorpion Nxumalo pointed to the fact that Eswatini trade with China was massive. He opined that it was prudent for the country to engage China on the issue of the trade relations.

Nxumalo mentioned that the bilateral relations between Eswatini and Taiwan did not stop trade between local businessmen and Mainland China from taking place.
"The uproar signals the amount of trade between Mainland China and our local businesses," he said.

Senator Prince Magudvulela advised that it was good to be proactive and preventive as a country. He further advised against being always reactive.
The senator urged the kingdom to ensure its intervention was therapeutic. In this context, being therapeutic means restorative.
Prince Magudvulela said the motion moved at the House of Assembly calling for the establishment of the trade relations with China should be allowed to be debated in the spirit of democracy.

He said there was a need for the opening of a Trade Mission for Beijing in the country because many of the country's people and businesses traded with that country.

Meanwhile, Prime Minister Ambrose Mandvulo Dlamini on Friday said there was no cause for alarm and there was irrefutable information that only applications for a visa to China had been altered for emaSwati.

indicated

"As a result, the only Visa Centre where emaSwati should apply was indicated to be the Chinese embassy in Pretoria and not Sandton or elsewhere," the prime minister said.
The premier discouraged speculative positions that had been adopted and flaunted as the reasons for the cause of the changes in visa application procedures. He said each sovereign nation reserved the right to execute its public mandate the way it deemed fit without fear or favour.

"The government remains committed to serve the citizens of Eswatini and maintains an active interest in the matter," he said.
When one of the businesspeople who were turned away at the Chinese Embassy was told of what the prime minister said about the issue, he was so angry that he used strong language against government.