EX-COP SHOOTS WIFE, KILLS HIMSELF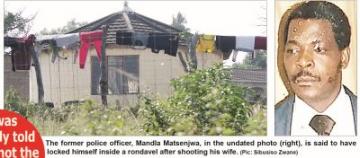 LAJANE – A 28-year-old family secret has allegedly seen a retired police officer planting a bullet into his wife and later poisoning himself.

The incident that has left community members talking in hushed tones, occurred at Lajane, an area situated about a kilometre South of Siphofaneni, a small town in the Lubombo region.

On Thursday at around 10am, the sound of gunshots caused panic and fear of the unknown to residents of the sparsely populated area.

A community member, who identified herself as make Ndwandwe, explained they were not used to such sounds in the area.
"When I heard the shots, I knew something was wrong," she said.

Her fears were confirmed a few minutes later when told that Mandla Matsenjwa (64), a former police officer, had shot his wife, Ncamsile Matsenjwa (nee Dlamini).
A senior member of the family Nelson Congo Matsenjwa said the bone of contention between his brother and sister-in-law was an old marital problem.
"It borders around the paternity of some of their children. This matter dates back to 1991," said Congo, giving details of the problems that led to the fatality.

He explained that his brother was told he was not the biological father of three out of seven children he knew as his.
Congo alleged that Mandla was informed about the issue of the paternity at different intervals.

police

In between the period of receiving the 'disheartening' information, Congo said the couple were regular 'customers' at the Siphofaneni police station and the Siphofaneni circuit court.
Reverting to Thursday incident, Congo narrated he received a call that his brother had shot Ncamsile (50) with a 32 bore shotgun.
After shooting his wife, the former police officer is said to have locked himself inside a rondavel within the compound and ingested a poisonous substance.
"After receiving the news, I immediately called him on his mobile phone.
I told him I was on my way to the scene. While at that, I asked him about the news I had just received. He confirmed that he had shot his wife, and had ingested four weevil tablets," Congo said.

On arrival at the scene, Congo said he found that the place was already crowded with neighbours and relatives.
He said he then confronted his brother who was inside the hut.

confronted

"To be honest with you, I only focused on my brother who is my blood. I paid little attention to what was happening to my sister in-law," Congo responded when asked on what condition Ncamsile was in at that point.
However, he said he was later informed that his sister in-law had been shot in the thigh.

He mentioned that he had the opportunity to talk to his brother who related almost everything to him.
"I knew some of the things he was telling me because we once had a talk about them," he said.

While the brothers were talking, some people are said to have called the police, who arrived promptly.
Upon arrival, Congo said the police broke into the house, to give paramedics an opportunity to attend to his brother who was later transport to the Raleigh Fitkin Memorial (RFM) Hospital in an ambulance.

He mentioned that his brother was certified dead on arrival at the hospital while his sister in-law was admitted.
Besides the paternity issue, Congo said the introduction of the Sexual Offences and Domestic Violence (SODV) Act was partly to be blamed for the death of his brother.

"Our sister-in-law would intentionally provoke my brother. And when he reacted, she would rush to the police. I also believe this is another reason that could have caused my brother to react in such a manner," Congo alleged.

In a separate interview, Ncamsile, when asked about the paternity allegations said she was not aware of them.
"This is all lies. They are trying to ruin my reputation. However, I cannot deny the fact that we had problems in our marriage," she said.

Hospital

Speaking from her hospital bed, Ncamsile said she had God to thank for being alive.
Ncamsile's mother, who identified herself as Gogo Gwebu, said her daughter told her that she was receiving threats from Mandla.
"In fact, she told me this in the morning. A few hours later, he carried out the threats," Gwebu said.

Asked if she was aware of the paternity issue, the elderly Gwebu said there was no truth on the allegations.
"If that was the case, why did he not do a paternity test?" Gwebu rhetorically asked.
Chief Police Information and Communications Officer (PICO) Superintendent Phindile Vilakati confirmed that a former police officer shot his wife before committing suicide.
Do you believe that the announcement of pay cuts for politicians was window dressing?