OVER 300 AGGRIEVED EVICTION VICTIMS AT MARCH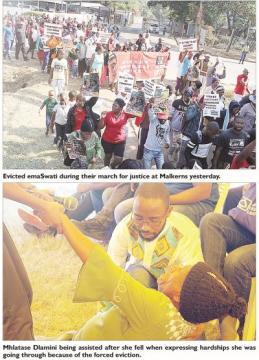 MALKERNS – "We eat from the bins as we do not have homes and cannot practice farming." That was how the victims of forced evictions described the situation they were currently facing after being evicted from their places.

The over 300 aggrieved emaSwati, who were part of the forced evictions campaign, share the same sentiments on how they were currently getting food for themselves and their families after being evicted from lands they knew to be theirs.

What was even more hurting, they said, was that they were not getting support from their community leaders, whom they said told them they should go to court.

Mhlatase Dlamini from Embetseni broke down in tears while she was explaining how her home was knocked down and had to leave all her belongings to live on the streets.

She stated that what was even sadder was that they were born and raised in the places, only to be told now that they were in a privately owned land.
"Our houses were brought down and our belongings were taken and dumped. My children are all over and eat from dustbins. Who did we offend?" asked Dlamini.


FELL TO THE GROUND
Dlamini could not hold back her pain as she cried and fell to the ground.
Most of the speakers stated that their families and great grandparents' graves were in those places they were evicted from to which when they asked what would happen to the graves, they were told to dig them and leave with them if they could.

Another speaker, Gavin Khumalo, who said he was from Embetseni, but quickly corrected himself to say he did not even know where he was from because he did not have a home anymore.

He said the day he was evicted he was called from work to be told his house was being demolished. He also stated that he was less than five years away from retirement and it was his first time last year to be told that he was in a privately owned land.

The affected people were from Dwaleni, Sigombeni, Gege, Madonsa, Nokwane and Malkerns among others.
Dominating in number were residents of Sigombeni, whose representative identified himself as Maswazi. He said they received a letter that their homes were going to be demolished in March and since that did not happen on the said date, they are always looking over their shoulders since they did not know when the demolishers were going to come.