KING FORESEES BUMPER HARVEST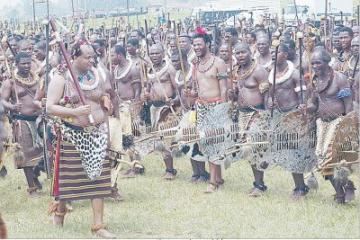 NGABEZWENI – When people pray to God, they normally wait for a response; however, the Creator seems to have answered emaSwati during the course of their prayer.

His Majesty King Mswati III has observed that the country started receiving good rains since the commencement of the annual Incwala Ceremony which ended with the dispersal of the regiment yesterday.

This was despite the predictions that the country was among those which were likely to be affected by drought.
According to the prediction, good rains were supposed to end in December, something which resulted in some emaSwati not cultivating their fields.
The Monarch said the good rains were a sign that God never abandons a respectful and peaceful nation.

The Head of State assured emaSwati, who cultivated their fields, that 2019 was a year of a bumper harvest.

Activities

He thanked the regiment for participating in the cultural activities. The King said participating in cultural activities was the responsibility of all emaSwati.
"It is very important that we preserve our culture which we inherited from our forefathers for future generations. I appreciate the presence of all regiments which include Imbali, Lutsango, Ingatja, Bongengeni, warriors and Bokhololo,' he said.

He noted with appreciation that warriors finished the weeding of the royal fields in a few days due to commitment and love for the culture.

Practices

In the same breath, the King encouraged the nation to go back to the old cultural practices such as lilima in order to ensure food security.
Lilima is a cultural practice where emaSwati assist each other, especially when working at the fields.

He said it was his wish that emaSwati work together in the fields and distribute food across the country in order to curb poverty.
The Head of State also encouraged chiefs to revive ummemo so that people would have more time to engage in cultural activities at chiefdom level.

Commended

The King commended the good spirit during the course of the event since there were no negative reports.
"Raising the voice and stick spoils the event. We are grateful that the annual event was celebrated peacefully. As I look around, I can see that none is frowning, which is a sign that you are all happy," the King said.

Heat

He regiments braved the scorching heat.
However, there were signs of imminent rainfall immediately after the King had delivered his speech.
The regiment left the royal residence in a happy mood as the Head of State gave them food parcels, calendars and allowances (imbasha).
In view of the drug shortages in public hospitals, do you think it is the Ministry of Health's budgeting or corruption that is adding fuel to the crisis?