STUDENT OFFERED SCHOLARSHIP TO DROP RAPE CASE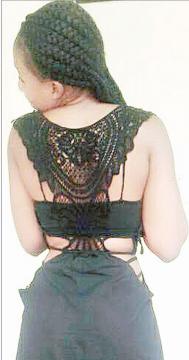 mfanukhona@yahoo.co.uk


MANZINI – A 19-year old woman who was allegedly raped by a member of the extended royal family and her university male colleague is being sweet-talked into dropping the case in exchange for an overseas scholarship.

This was disclosed by the survivor herself in an interview with this newspaper. While she was in the crucial stage of dealing with probable nervous breakdown challenges and lifelong consequences of rape, three carrot-dangling strangers visited her last month at the Kwaluseni campus of the University of Eswatini (UNESWA).

*Zodwa (not her real name) said the three men, unknown to her, persuaded her to drop the case, which she opened against the royal family member and her university male colleague.
Despite the allegation that she was kidnapped, drugged and raped at a guest house in the outskirts of Manzini in September this year, she said the three men told her that money was available to finance her education in either Taiwan or the United Kingdom.

Zodwa said they claimed to be representing the male student. On the other hand, she said other people claiming to be representing the royal family member reportedly asked Mzwandile Dlamini, a Manzini-based attorney, to advise her to drop the case in exchange for the same offer.
She said she was hurting because her assailants took turns to rape her. She was terribly aggrieved that one of her alleged assailants was known to her, as they were doing the same course at the university.

The royal family member is actually a son of one of the late popular princes.
Ethically and legally, details that might lead some people to identify the survivor will not be published.
The survivor alleged that she was persuaded to drop the case last month. She said her attorney told her that he met the other people around Matsapha.

How does attorney come in?

Basically, she said Dlamini, the attorney, helped her to report the case at Matsapha Police Station and the matter was later referred to the Manzini Police Station. This was due to the fact that the incident occurred within the jurisdiction of the Manzini Police Station.

After the rape ordeal, she said the attorney was the first to receive a telephone call from her. The attorney's name is being published because he deals with many clients and there are understandably narrow probabilities that the disclosure of his identity would lead people to identify the survivor.
The survivor continued to say that her attorney also informed her of the scholarship offer to study in Taiwan in exchange for the dropping of the case. It meant she had two options – taking a scholarship to study in Taiwan or UK.

Asked how tempting the offers were to her, Zodwa said she rejected them plainly. She explained that she would not have accepted the scholarship offers because she did not want to suffer pangs of guilt. "I didn't want to sacrifice my body for money or this scholarship thing," she insisted.

She said she was shocked at seeing people bragging about their material things instead of apologising to her on behalf of the person or persons who raped her. "They were not sorry for what their relative did to me. They just came to bribe me," she said.

She added: "What really annoys me is that I was drugged and left unconscious. While I was unconscious, that was when they raped me."
Asked how she was able to identify them because she was unconscious, she responded: "It's true that I was unconscious but not to the extent that I didn't see what was happening to me. I was powerless, unable to resist or defend myself, but I could see them taking turns to rape me."

Further asked if they used condoms, she responded to the affirmative. However, she said even though they used condoms, doctors at the Raleigh Fitkin Memorial (RFM) Hospital in Manzini gave her post-exposure prophylaxis (PEP). PEP supports to reduce the spread of HIV and other blood borne pathogens hepatitis B virus (HBV) and hepatitis C virus (HCV).

On a very sad note, she narrated how she was raped. She said the prince was the first to have alleged unlawful sex with her. After he had finished, he allowed the student to rape her as well. When the male student was through, they engaged in a group sex (threesome), taking turns to rape her. "Three times they slept with me," she said.

Cops ask for her pubic hair
She said she did not take a bath until she was seen by a doctor at the RFM hospital. She was seen by the doctor on September 8, 2018. Despite the fact that the doctor examined her to detect penetration, she said she did not understand when police asked for her pubic hair on September 10, 2018.

She said she did not give them because she had none at that time. "Why did they ask for my pubic hair because the doctor established the penetration and I had not taken the bath by then," she said.

She said she was terribly hurt because she did not consent to this sexual intercourse, as a result, she said she was still trying to recover from the trauma.
She said it was disheartening to see her male colleague every day. Seeing him on a daily basis in the lecture room, Zodwa said she got traumatised.
Asked if the male student was remorseful, she said he was not as he was allegedly bragging about what he did to her. "He bragged to some of my colleagues at the university, mainly males, that he had finally indulged in sexual intercourse with me" she said.
She said she learnt of this assertion when some of her male colleagues asked her about the issue. "I told them that I never consented to the sex. I also explained to some of my friends how these guys raped me," she said.
She has not yet informed her parents of the incident. She disclosed that she was not in good talking terms with his alleged assailant. "I don't greet him when we meet. He hasn't attempted to greet me as well."
She added: "That guy is not sorry." She thanked God that she was physically well, except that she was recovering from emotional abuse. She said she had gone through a lot of professional counselling, and was gradually recovering.
Mzwandile, the attorney, confirmed that he was asked by some people to plead with Zodwa to drop the case. "I can only say to you it's true that they asked me to advise her to drop the case in exchange for a scholarship to study in Taiwan," he said. He said he advised them to talk to the survivor because it was her who preferred the charges against the royal family member and the male student of the university.
kidnapped from campus
Our sister publication, the Times of Swaziland, reported in September 2018 that the 19-year-old university student was allegedly kidnapped by the duo while she was enjoying proceedings of an opening bash that was held at Kwaluseni Campus. The fun began on Friday and ended on Saturday morning.
While the student was enjoying herself at about 3am on that Saturday, a source said one of her colleagues allegedly told her that umntfwanenkhosi (a prince) wanted to introduce himself to her. Unsuspecting, the student went to the prince accompanied by her university colleague.
The prince's car was parked within the university's premises. Upon arrival there, it was reported that the male student advised her to sit closer to umntfwanenkhosi by occupying the front passenger seat. When all of them were aboard the car, the male student reportedly asked the prince to drive to a certain place that was not far from the campus to pick up someone.
Before the teenage girl could even agree to the unplanned trip, the prince allegedly locked his vehicle and drove off, while she made unsuccessful attempts to open the door. The male student is said to have assured Zodwa that they would return to the campus very soon. Along the way, sources alleged that the two men offered her an energy drink, which she refused to drink. She eventually relented to taking a sip after persuasions to do so, sources close to the issue said.
After drinking the drink, she reportedly began to feel disoriented. Even though she could not remember events leading to the incident, she recalled being assisted by the prince and her university colleague to alight from the car and get into a room in one of the guest houses situated in the outskirts of the city of Manzini.
When questioned after the alleged rape incident, the survivor is said to have told the police that she remembered being allegedly raped by both the prince and her colleague at the guest house.
She is said to have told police that she was a bit sedated and could not even stop them from raping her or defend herself from the alleged sexual assault.
One of her alleged sexual assailants, the male university student, adamantly declined to respond to questions posed to him on Friday by the Times SUNDAY. He was asked if it was true that he raped Zodwa. He was also asked if he, at some point, sent some men to ask for the survivor's forgiveness and dropping of the case in exchange for the overseas scholarship.
The last question was how his relationship with Zodwa was because they were doing the same course and seeing each other on a daily basis. "Kantsi unjani wena awuva yini nangitsi angifuni kukhuluma ngalendzaba (don't you get it that I don't want to talk about this issue," he said.
Superintendent Phindile Vilakati, the Chief Police Information and Communications Officer said the alleged rape case was still under police investigation. She said they were not aware that certain people asked the survivor to drop the case. She was not in a position to indicate when they would conclude the investigations as the survivor was examined by the doctor.

Women and Law to help
Zanele Thabede, the Project Officer of the Eswatini chapter of the Women and Law in Southern Africa, said they handled the case of Zodwa, and even engaged a lawyer to explore it. She said they made attempts to reach out to her, but eventually did not meet her because of circumstances beyond the power of their control.
She said they took a position on this issue; that was to support and protect Zodwa through and through. She urged her to come to the association's office for professional help and advice. Thabede said her association received three cases of rape on a monthly basis, an indication that the prevalence of rape was still high in the country.

Eswatini's rape statistics
In May 2018, Isaac Mmemo Magagula, the former National Commissioner of Police and now Senator, released alarming rape statistics for the country, which reflected that 61 women were raped every month here.
The then national commissioner stated that cases of gender-based violence (GBV), which manifested mainly through rapes and intimate partner killings (passion killings), were another persistent challenge in the country's overall crime landscape.
Magagula stated that there were 1 046 rape cases reported in 17 months, from January 2017 up until May this year. He said the most harrowing were the cases where young children and elderly women were subjected to the horror of rape. The now senator said the incomprehensible, distasteful and mindboggling cases were also those in which biological fathers raped their own daughters.

Prince Mbuyisa's rape case
Notably, the Times SUNDAY can mention that it is easy and acceptable to arrest members of the royal family. Legend has it that Prince Mbuyisa, whose father is King Sobhuza II, was arrested, prosecuted and convicted of rape in 2006. He was sentenced to seven years imprisonment for raping a nine-year-old child.
In his finding, Magistrate Joe Gumede strongly condemned the prince's act at the Mbabane Magistrate's Court. "Those who commit this type of crime have to receive heavy sentences because they really do not deserve to be part of the community," said Gumede. He added: "What you did has brought shame on your own head and also on the heads of your children. I will not even dare to mention the royal family."
Gumede said Prince Mbuyisa had to thank his stars that the case had not been heard by a higher court.
Had that been so, he would have received a life sentence but the director of public prosecutions had decided that the hearing should be held by a lower court. However, the prince was later freed on a technicality before he completed his seven-year jail term. His lawyer was the late Collin Ntiwane.
*Not real name.
Do you also think that safe abortion should be legalized in the country?