HEAVILY ARMED ESCORT FOR SHONGWE'S DAY IN COURT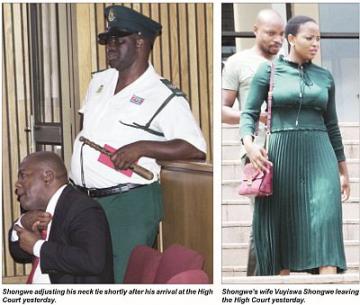 MBABANE – The presence of heavily armed members of the Royal Swaziland Police and Correctional Services officers at the High Court yesterday is evidence that the trial of murder suspect Sipho Shongwe will be like no other.

The High Court premises were littered with about 20 police officers, eight of whom were from the Operational Support Service Unit (OSSU), who arrived in a Casspir, a vehicle that is usually used during potentially violent events.

Ordinarily, suspects who are ferried to court are transported in a single vehicle, but this was not the case for Shongwe who was escorted by four Correctional Services vehicles and the Casspir.
All the officers who were on board the vehicles were heavily armed with R4 rifles and wore bulletproof vests. Other weapons that they were carrying included tear gas canisters, which are normally used to disperse rowdy crowds. This was Shongwe's first public court appearance since he was arrested on January 19, 2018, in connection with the alleged murder of prominent businessman and soccer administrator, Victor Gamedze.

Work came to a standstill for civil servants who peeped through their office's windows after their attention was drawn by the wailing of sirens from the convoy of the vehicles which transported Shongwe.
Motorists were also left wondering who the 'VIP' being transported was, as they were forced to give way for the convoy. Upon arrival at the High Court, in true military style, the uniformed forces' members jumped from the vehicles and took several strategic positions.

Meanwhile, the single-cab Isuzu which Shongwe was aboard was driven to the back of the High Court where suspects are held in holding cells pending their appearance before a judge. At this point, the suspect, who was in a black suit, white shirt and red tie, alighted from the van while being escorted by senior officers from His Majesty's Correction Services, followed closely by the armed police.
Though dressed immaculately, the only thing that spoiled Shongwe's look were the unmistakable leg irons which were secured just above his formal black shoes.
Shongwe, still surrounded by about four of the high-ranking officers, was then ushered into Court D where his matter was later to be heard by Judge Sipho Nkosi. Still on high security alert, before members of the public were allowed into the courtroom, a contingent of police officers led by Hhohho Regional Commissioner Joseph Bhembe, inspected the court to ensure it was safe.
It was only after the sweep that family members of the public, who consisted mostly of Shongwe's friends and relatives and High Court staff members crammed the small courtroom.

Before Judge Sipho Nkosi entered the courtroom there were three other security personnel armed with the R4 rifles, a sight that has never been witnessed in recent times in the High Court.
Should government suspend national events and celebrations hosted by the Ministry of Home Affairs?