EFF, PUDEMO MEET TO REVIVE #FREESD CAMPAIGN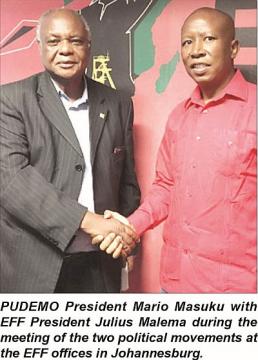 PIGG'S PEAK – It appears Swaziland may have to brace itself for waves of campaigns under the hashtag 'FreeSwaziland'.

This follows a meeting between representatives of the proscribed People's United Democratic Movement (PUDEMO) and the Economic Freedom Fighters (EFF).
In the past, a similar campaign had been characterised with marches that sometimes resulted in violent confrontations with the police.

Mario Masuku who is PUDEMO president with others including Mphandlana Shongwe, were spotted in a photo that was posted on the EFF's official twitter account.
PUDEMO is a proscribed organisation in Swaziland and also has a youth wing known as the Swaziland Youth Congress (SWAYOCO).
Mlungisi Makhanya, the Secretary General of PUDEMO, said he was aware of the visit to South Africa by representatives of PUDEMO.
He, however, requested to respond via an emailed statement.

During the conversation, Makhanya confirmed that officials from the banned political party had met with EFF officials.
Makhanya further hinted that the members would then continue with activities today. South Africans will today commemorate Youth Day which coincides with the June 16, 1976 youth uprising.
Julius Malema, the President of EFF is expected to speak during an EFF meeting today.

Meanwhile, in response to a questionnaire that was forwarded to the Government Press Secretary Percy Simelane, regarding the proposed collaboration between EFF and PUDEMO, his response was that the campaign was mainly about bombing citizens.
"We have not forgotten that the campaign was about bombing citizens into submission and destroying government infrastructure including bridges", said Simelane.
He further said government would not negotiate with politically bankrupt parties such as the EFF in South Africa.

Simelane stated that the EFF 'spent most of its time boxing itself out of the ring of international respect'. He said the destiny of Swaziland was in the hands of its people and not at the mercy of its neighbouring or any nation anywhere in the world.
The press secretary further said PUDEMO remained a proscribed entity in the country.