NURSES' GO-SLOW TO CRIPPLE HOSPITALS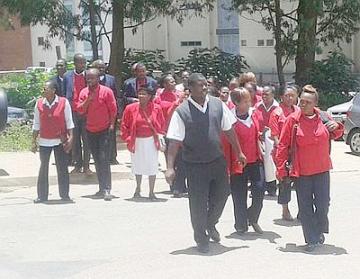 MBABANE – The battle has just begun! This was the bold statement by President of the Swaziland Nurses Association (SNA), Bheki Mamba when addressing nurses after they resolved to embark on a go-slow.

The nurses took the resolution during a meeting that was held at the Mbabane Government Hospital yesterday. They further vowed that they would not attend to any emergencies today.

Some of the demands by the nurses are; the issue of shortage of drugs, current uniform policy, continued harassment of nurses, new proposed structure and a Health Indaba. Some of the drugs which are currently unavailable in the country's health facilities according to the nurses include drugs for sexual transmitted infections(STIs), epilepsy drugs, hypertensive drugs and diabetes drugs.

According to the nurses, the go- slow will be in all the health facilities countrywide with effect from today.
They agreed on this resolution after an order directing them to report to work on Tuesday and Wednesday was issued by acting Industrial Court Judge Musa Sibandze yesterday.

The nurses had previously resolved to go on strike with effect from May 15-16, 2017.
The order by the court comes after government filed an urgent application seeking an order restraining and interdicting the nurses from participating in the intended strike action or withdrawal of their services on May 15-16, 2017.
Although having agreed to call off the strike action, the nurses yesterday resolved to engage in a 'slow gear' from today until government heeds to their demands.

"Let us make hospitals ungovernable so they can heed to our grievances," said Mamba.
: MPs assault allegations
Should an independent team be astablished to probe the MPs' assault in a cell allegations?