MAN CRUSHED BY FORKLIFT, DIES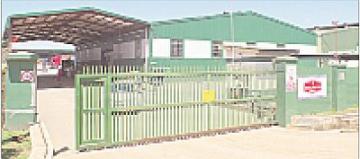 MATSAPHA – A sugar-packing company employee died tragically after he was pinned by a forklift truck against the roofing of the factory shell.

The freak accident took place in the wee hours of yesterday morning at Atlanta Products Factory.

An impeccable source within the company said the employee was allegedly feeding the machine which packs the sugar when the incident took place.
He said the worker was lifted by the forklift truck with the bags of sugar up to the machine.

"The operator of the forklift truck failed to stop it when it was at the height of the packing machine and it smashed him hard against the roofing of the factory shell and he was pinned between the bags of sugar and the roof," the source narrated.
The source also revealed that both the employee and the driver of the forklift truck were subcontracted to the company as they belonged to a certain labour broker.

In fact, the source alleged that a majority of the employees in the company were hired from the labour broker in question.
Furthermore, he alleged that most of the permanent staff members worked day shifts and a few of them worked night shifts despite the fact that the company was big and generally the duties required skilled people.

He said after the incident, management was called and they responded promptly to the call by going to the scene right away.
"They assessed the scene and the police were called too.
Do you believe that the announcement of pay cuts for politicians was window dressing?