WIFE ACCUSED OF SELLING ALBINO'S CORPSE TO INYANGA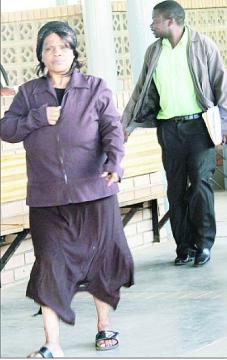 MBABANE – It has been alleged that the recently murdered Sipho Mahlalela's wife sold her husband's corpse to a traditional healer, who needed blood of a person with albinism.

Mahlalela was allegedly killed by two men at Nkoyoyo after his wife allegedly reached an agreement to have him killed at a price.
The traditional healer, who allegedly entered into an agreement with the wife, is now a subject of intense police investigation.
The wife, Pinky Zikalala, together with two men, were arrested and charged for Mahlalela's murder.

It is alleged that Zikalala and the traditional healer, who will not be named for now, agreed on a deal to deliver Mahlalela to the latter. The terms of the deal were allegedly that Mahlalela had to be delivered to the traditional healer alive.

These are allegations contained in the traditional healer's confession whose veracity is still to be tested before court.
The traditional healer, after discovering that Mahlalela had been killed, allegedly withdrew his offer.

It is alleged that the traditional healer needed the blood of a person living with albinism for ritual purposes.
It is then that Zikalala allegedly approached the two men, who agreed to murder Mahlalela for an undisclosed fee. Indeed, the two men allegedly killed Mahlalela , however, they were later arrested together with Zikalala.

It was further alleged that, before their arrest, Zikalala took the traditional healer to where the corpse was and showed it to him. It is further alleged that she then asked for her pay from the traditional healer since she had kept her end of the deal.
However, the traditional healer is said to have backed out of the deal because he supposedly wanted Mahlalela to be brought to him alive.