OSSU CASSPIR RUNS OVER STUDENT, CAMPUS CLOSED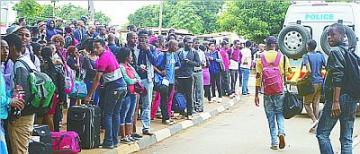 KWALUSENI – There was a violent clash between students and security forces during a protest on Monday night at the University of Swaziland (UNISWA) which led to a student being run over by an OSSU Casspir.

Students at the Kwaluseni campus said a Royal Swaziland Police (RSP) Operational Services Unit (OSSU) Casspir drove at high speed into a group of about 2 000 students, who, when they realised that the vehicle was not stopping, ran in all directions.

Ayanda Mkhwanazi (22), a second year B-Ed-Science student, was run over by the RSP vehicle and is fighting for her life at the Raleigh Fitkin Memorial (RFM) Hospital.

When journalists arrived at the hospital yesterday morning, the student was having a blood transfusion, since she reportedly lost a lot of blood when the incident occurred.

She was then wheeled out of the ward to the Manzini Clinic. RFM Hospital Administrator Leonard Dlamini said the student was going to the private clinic for a CT Scan to ascertain further injuries. RFM Hospital currently does not have a CT Scan.
Mkhwanazi is said to have suffered severe injuries, including a broken spinal cord, fractured ribs and further injuries to the body, face and legs.
When asked what transpired on Monday night, she said she could not remember anything except that she was among the students who were protesting on the night.

"Honestly, I cannot remember the incident, I do not have an idea how I got here and what happened on the night. I just woke up and found a team of police officers who told me that a group of students fell on top of me when trying to escape from a police Casspir. I then received calls after they had left and informed that the same vehicle was the major cause of my severe injuries," the student said, fighting back tears.
UNISWA Student Representative Council (SRC) President Brian Sangweni said the horrific incident occurred at the graduation arena at about 11pm, on Monday.