THULANI DEMANDS E20M FROM GOVT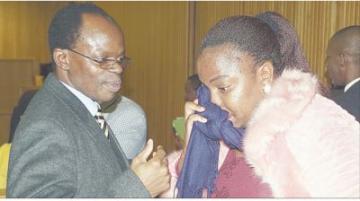 MBABANE – In what can be arguably said to be the highest claim filed by an individual against the State, Human Rights Lawyer Thulani Maseko is demanding E20 million from government as compensation for unlawful arrest.

The amount of money that is now being demanded by Maseko is to cover for damages which include, among others, malicious prosecution and unlawful detention. Maseko was sentenced to two years imprisonment with
The Nation Magazine Editor Bheki Makhubu after they were found guilty of contempt of court by suspended High Court Judge Mpendulo Simelane in March 2014. The human rights lawyer and the editor were released by the Supreme Court after the Crown admitted that their arrests, prosecution and detentions were unlawful and malicious.
Maseko has filed the claim through his attorney Mandla Mkhwanazi.

"Our client has instructed us that on or about April 17, 2014 he was unlawfully arrested by Mbabane Police and subsequently charged wrongfully and maliciously with the offence of contempt of court. We are instructed further that on or about April 26, 2014, he was again unlawfully detained after the High Court had ordered his release from custody," reads part of the claim directed to the office of the Attorney General.

Maseko stated that he was maliciously prosecuted for the crime of contempt of court and he was released on the basis of concession by the Crown that the arrest, prosecution and detentions were unlawful. He submitted that as a result of the unlawful arrest, unlawful detention and malicious prosecution, he suffered damages amounting to E20 million.

"We have been instructed to demand, as we hereby do, payment of the sum of E20 million within the statutory period at our offices, failing which we are under strict instructions to issue summons for the recovery of the said damages without any further notice," stated Maseko's lawyer.
The state, which is represented by the office of the Attorney General, is yet to respond.
Will the PM lift the alcohol ban on Thursday (October 1)?