E50 000 BAIL FOR REGISTRAR, JUDGES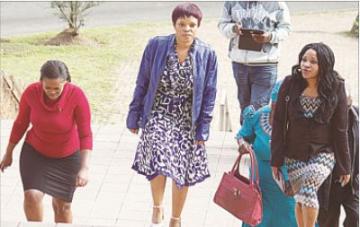 MBABANE – After spending three days behind bars, two judges of the High Court Mpendulo Simelane and Jacobus Annandale, as well as Registrar of the High Court Fikile Nhlabatsi have been granted E50 000 bail each.

Their bail was granted by High Court Judge Qinisile Mabuza yesterday.
Judge Mabuza ordered each of the accused to pay E10 000 cash and provide surety for the remaining amount. The judge granted bail after hearing submissions made by their attorneys.

Their bail applications were being opposed by the Crown, which was represented by Senior Crown Counsel Mduduzi Mathunjwa.
Some of their bail conditions were that they should each report to the police station fortnightly, on Friday; surrender their passports to the investigators; and they should not interfere with Crown witnesses. Nhlabatsi and Judge Simelane have been ordered to report at the Manzini Police Station, while Judge Annandale has been ordered to report at the Mbabane Police Station.

Judge Simelane's lawyer Noncedo Ndlangamandla argued that he was not a flight risk as claimed by the Crown.
Nhlabatsi's lawyer Mzwandile Dlamini also submitted that his client was not a flight risk.
In her affidavit, Nhlabatsi stated that she was shocked when Anti Corruption Commission (ACC) investigators and police told her that she was being charged.
: MPs assault allegations
Should an independent team be astablished to probe the MPs' assault in a cell allegations?