MINISTER, 2 JUDGES,REGISTRAR ARRESTED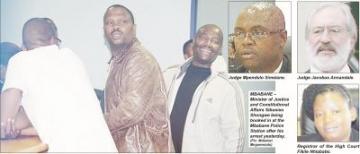 MBABANE – Justice and Constitutional Affairs Minister Sibusiso Shongwe has been arrested along with two judges; Mpendulo Simelane, Jacobus Annandale and High Court Registrar Fikile Nhlabatsi.

The Anti Corruption Commission (ACC) started their round-up by arresting the judges around 9am yesterday. Judge Annandale and Judge Simelane were fetched from their homes, Pine Valley and Manzini, respectively.

The minister has been arrested in connection with the E2 million that was found in his law firm's trust account, which he allegedly failed to disclose its source when requested to do so by ACC investigators.
Judge Annandale has been charged with defeating the ends of justice in that he rescinded (set aside) the warrant of arrest against the Chief Justice (CJ), Michael Ramodibedi, on Saturday.

The warrant of the CJ's apprehension, which Judge Annandale rescinded allegedly under questionable circumstances, had been issued by High Court Principal Judge Stanley Maphalala.

Judge Simelane together with the CJ are facing three charges of defeating the ends of justice, abusing power and conflict of interest.
Ramodibedi has not yet been arrested after locking himself inside his house when police officers and ACC investigators came to effect the warrant for his apprehension.

The CJ is said to have allocated his matter against the Swaziland Revenue Authority (SRA) to Judge Simelane despite knowledge that while he (Simelane) was a Registrar of the High Court he had engaged SRA on the very same case on behalf of the CJ. Judge Simelane ordered SRA to pay back E128 000, which the authority deducted from the CJ's gratuity.