NGANONO ARRIVES FOR HEARING IN CHAINS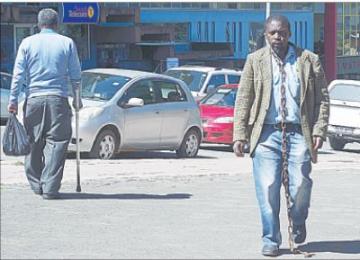 MBABANE – Councillor Nganono Manyatsi stunned members of the public and employees at the Mbabane Municipal Council when he arrived at the council offices with a chain hanging around his neck.

Manyatsi was attending his disciplinary hearing for a case that began in 2013.
The hearing was held at the Mbabane Municipality's Chambers at 2.30pm.

It was an unusual sight when he arrived at the municipality's reception with the chain around his neck, leaving council employees in shock.

The vocal councillor kept on uttering several words as he walked up the stairs leading to the Council Chambers. "I am a slave to this municipality. The chain is a sign of slavery," Manyatsi said. Information obtained by this newspaper is that Manyatsi is faced with charges that date back to some years ago.