Phila Sibiya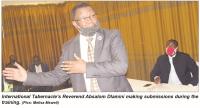 MBABANE – Churches are expected to operate at 30 per cent holding capacity. This is contained in a variation of gatherings directive of 2020 as
MANZINI – Hardly three days after the reopening of schools, the country has recorded its first COVID-19 case in a public school. A well-placed source within
...
MBABANE – The country yesterday recorded 82 confirmed cases of COVID-19, which is the highest since the first case was reported. The highest number of
...
MBABANE – Prime Minister Ambrose Mandvulo Dlamini has reaffirmed the Kingdom of Eswatini's commitment to the values and principles of the International Labour Organisation (ILO).
...
Sports EditorMBABANE – As Mbabane Swallows adds new feathers on its wings, it is shedding old ones in equal measure. In a week when the red
...
MBABANE – Like a thief in the still of the night, COVID-19 is quietly creeping into the local sporting fraternity. Hardly a week after this publication
...
MBABANE – "Mashesha was the man behind my football career and he paid my first football pay cheque," said Mfanafuthi 'Taribo' Bhembe. Mashesha is the late
...
MBABANE – Flipping a truck tyre completes rugby player Sibusiso 'Skuta' Dlamini's training programme. He said without flipping the tyre or lifting it up, he felt
...
MBABANE – All eyes are on the Player of the Series Award as the Ingwenyama Cup's fifth edition champions, Green Mamba, will today take home
...
MBABANE – Inspiring fresh content. Lately, Eswatini enjoys the arts industry bearing fruits of different forms. Yesterday, the television station launched a new telenovela, at
...