Phila Sibiya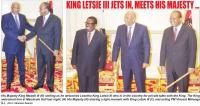 LUDZIDZINI – "Ngemandla" (by royal command)! The nation has been summoned to the Cattle Byre (Sibaya) by His Majesty King Mswati III tomorrow at 11am
MBABANE – Members of Parliament (MPs) alleged to have taken money from a Senate hopeful claim to know nothing about any financial transactions. All the
...
EZULWINI – For the new senators-elect and appointed members, the requirement that they should declare their assets should be revisited. In true cultural language, the new
...
EMHLANGENI – Allegations of adultery have been fingered as the cause of the tragic incident involving an Old Apostolic Church priest and his wife.The priest
...
MBABANE – It's raining scholarships. Ministry of Labour and Social Security Principal Secretary Thulani Mkhaliphi announced yesterday that Japan had opened its hands to scholarship
...
MANZINI – Hub giants Manzini Wanderers head coach Nyanga 'Crooks' Hlophe will not be forced out of his position by unruly fans. At a pre-match press
...
MANZINI – "What is so special about Mbabane Swallows losing a game?" This is a rhetoric question asked by the team's head coach Thabo 'Koki'
...
MANZINI – Mbabane Swallows captain Tony 'TT' Tsabedze says it a normal thing for all teams to lose. 'TT' was making reference to their last MTN
...
MBABANE – Stuttering Manzini Wanderers hope to bounce back from their demoralising 1-3 loss to Tambuti at the expense of equally inconsistent neighbours Manzini Sundowns
...
MBABANE – Correctional Services athlete Thandaza Zwane proved elusive on the synthetic track during Sunday's track and field event. The lanky sprinter was the winner of
...