Phila Sibiya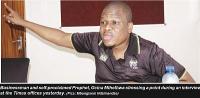 MBABANE – Police are having sleepless nights trying to find his killers, members of the public are speculating on his death, but there is a
MBABANE – The impact a person had in a place is usually seen after he or she has left. This proves true for murdered businessman Victor
...
Mbabane – It is a miracle! This is the only way to describe a chilling accident where two children aged two and one were run
...
MANZINI – Residents of Ekudzeni acted swiftly after the alarm was raised that certain people travelling in a black BMW sedan had kidnapped a man
...
MBABANE – Have you lost your mother, sister or grandmother? A woman who is estimated to be in her late 40s was found in Ermelo
...
MBABANE – Kaizer Chiefs Manager Bobby Motaung will lead a four-member delegation for the memorial service of PLS Chairman Victor 'Maradona' Gamedze. The delegation will comprise
...
MBABANE – Former AmaZulu Player of the Year, Sibusiso Hadebe has joined Mbabane Highlanders. The 30-year-old pint-sized player started training with the 'Black Bull' yesterday
...
MATSAPHA – Former Mbabane Highlanders Technical Director and Manzini Regional Football Association (MRFA) Chairman Phumuza 'Elkatib' Ntshangase had his sports shop raided by thugs who
...
MBABANE – It has emerged that the anonymous Sigcaweni Zonal League sponsors are former Red Lions Director Ngudze Mamba and former Cabinet Minister Mahlaba Mamba. This
...
MBABANE – They charge E150 000 per performance, but for their fallen hero they will bid him farewell for free. South Africa's Tswana Gospel Choir have
...