Phila Sibiya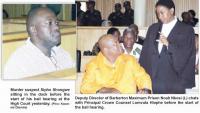 MBABANE – Judge Sipho Nkosi was left scratching his head when evidence emerged yesterday that the South African junior warder who came out in Sipho
LOBAMBA - It's now or never! This is the clear message sent by Members of Parliament to the Ministry of Education and Training and the
...
MBABANE – Former Mhlatane High School head teacher Simeon Makhubu has made it through the first hurdle. Yesterday, he paid the first instalment on his E474
...
MBABANE – It may not be victory but it gives Swaziland Posts and Telecommunications Corporation workers reason to put more effort into their works. This
...
MBABANE – This being Women's Month but women in the country have something to smile about. They are into half a century of being eligible to
...
MBABANE – It is not always that when something happens in South Africa, Swaziland gets a wake-up call. This emanates from the fact that government is
...
MBABANE – It will seem the country will wait a little longer to have a stadium of international standards. Minister of Finance Martin Dlamini's budget excluded
...
MBABANE – The ongoing impasse between the Women Football Association (WFA) and six aggrieved teams is now stretching to FIFA. This follows a decision by six
...
(At Gigi's Restaurant) EZULWINI – League of Churches president Bishop Samson Hlatjwako is adamant nothing is devilish with playing soccer. Speaking through a projected video footage
...
Mbabane Swallows vs Zanaco FC at Somhlolo National Stadium (3pm) MBABANE – The country's CAF Champions League envoys Mbabane Swallows invade Somhlolo National Stadium in
...