Phila Sibiya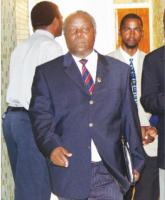 MBABANE – Swaziland has lost one of its greatest statesmen in former Prime Minister Obed Mfanyana Dlamini. Dlamini passed away in a South African hospital
MANZINI – Primary and high schools in Swaziland will now only teach Christianity in the Religious Education syllabus. This means that pupils will no longer
...
MANZINI – The banning of smoking for patients admitted to the National Psychiatric Hospital has resulted in them staging a violent protest action. The patients are
...
MBABANE – The rolling and grinding Bentall's Farm Machinery (emabhetali) which once cost a meagre E30, are back in demand for a whopping E100 000 reward. These
...
MBABANE – Life has become unbearable for a former Tex Ray Swaziland (PTY) Limited employee, who was severely affected by the leaking of poisonous gas
...
EZULWINI – The MTN Y'ello sports sponsorship milestone has received rave reviews in Africa, with a meritorious award. The AU Sports Council Region V recognised the
...
MBABANE – The National Football Association of Swaziland (NFAS) has explained to membership that FIFA funding rules have now been reviewed. NFAS CEO Frederick Mngomezulu's explanation
...
EZULWINI – Prime Minister Sibusiso Dlamini has a dream of seeing a Futsal league at grassroots level that will produce great players in the mould
...
MBABANE – With Young Buffaloes reclaiming the top spot and on form in the Esibayeni Lodge under-17 League, surely every opponent will up their game
...
MBABANE – There is still hope for Swaziland to be part of the Miss World Beauty Pageant and this can only happen if Vinah Mamba-Gray
...